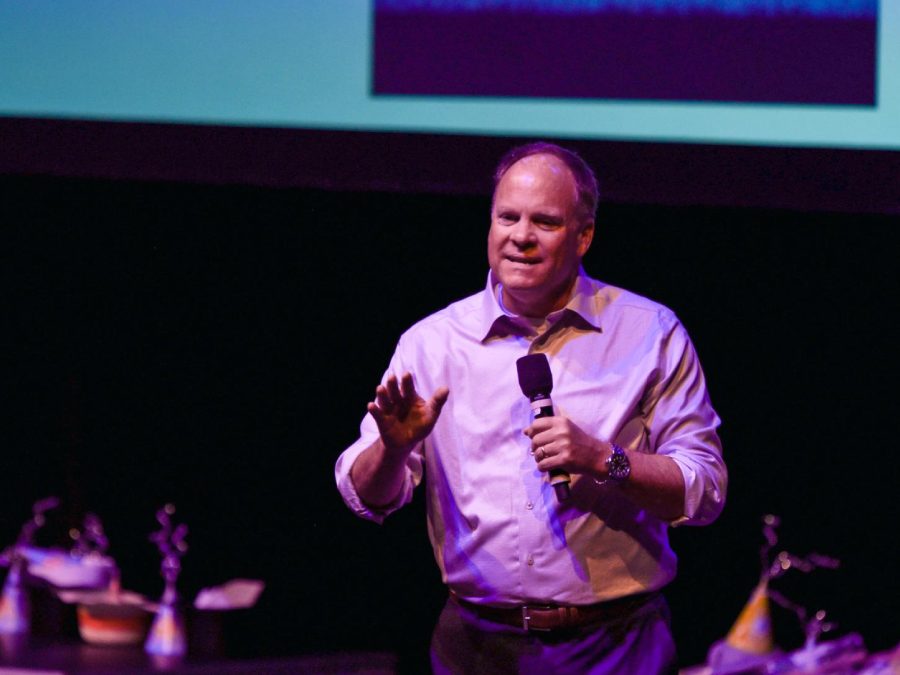 Bestselling author David Magee began his message with sobering statistics and ended it with hope. Approximately 400 Upper School students and 100 parents listened to Magee's life experiences and those of his son, Hudson, at the JA PAC last week. Hudson is the son who survived a drug overdose. William is the son who did not.
The Magees spoke about the effects of substance misuse among individuals and families, of how illegal substances have increased in strength and in dangerous added ingredients, and of relaxed attitudes toward prescription medications. Throughout their talk, they gave guidance for staying safe and helping others do so.
David Magee says human beings use substances to alter their feelings, but that substances take joy when misused. "You not only can live without substances, you can thrive and have joy without them," he said. "The more you delay (the use of substances), the greater your odds for happiness in your lifetime." He encouraged the audience to realize that mental health challenges are common, that counseling earlier and often makes a difference, and that people should develop a tool box for responding to temptation.
Hudson Magee survived an overdose in which he stopped breathing and his heart stopped beating. He suffered a coma that lasted for two days. His drug use began early and gradually, seeming almost normal to him. "I did not think I had a problem," Hudson said. "I thought I could kick it after college." He thought this even in the early aftermath of his overdose, even when there was a tube down his throat. "It felt impossible to go against the grain of what was around me," he said.
Hudson now sees life with a newfound clarity and is grateful for having people who hold him accountable. "I realize how damaging it was to spend those developmental years in a daze," he said.
David Magee is the bestselling author of Dear William: A Father's Memoir of Addiction, Recovery, Love and Loss, an award-winning columnist, and TEDx speaker. Magee has been a daily newspaper publisher, small business owner, a regular guest on CNBC, and once hosted a national cable TV program, The David Magee Show. He is currently the Director of Institute Advancement at the University of Mississippi—the role he started after helping create and launch The William Magee Center for AOD and Wellness Education at the university, named for his late son.
The Magee Center focuses on substance misuse education and support within the university. The effort is about to grow into the university's next standalone national institute—the Magee Institute for Student Wellbeing. Magee lives in Oxford, Mississippi.
David Magee described his family as one that was living what he would consider the American dream, where he tucked his children in at night and promised to keep them safe. Then gradually, they were dealing with alcohol abuse, drug abuse, an eating disorder, a divorce filing, and two overdoses. While his family's story is harrowing, and impacted each family member, their story of recovery is inspiring. How long does recovery last? "Forever" is David Magee's answer. With faith, counseling, support, accountability, and healthy relationships, those who have struggled or are struggling with substance misuse can stand on their own two feet.