Mission
At Jackson Academy, no one goes it alone.
Here, you are surrounded by a community of supporters–all dedicated to helping you identify your greatest talents, develop your particular gifts, and live with a strong sense of faith and purpose.
All of us, all behind you, with all our hearts. ALL FOR ONE.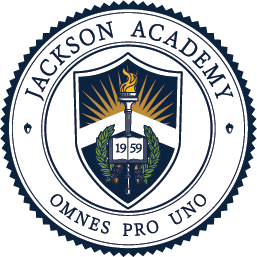 Our Mission
Within our nurturing and spiritual community, Jackson Academy inspires and equips each student to lead a life of purpose and significance.
60 Years of Investing in Lives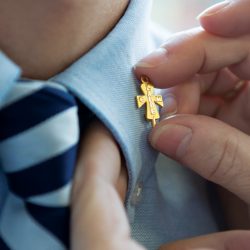 Teacher Loyal Bearss inspired others with his emphasis on teaching children reading by phonics during an era when sight-reading was the favored method. So much so that, in 1959, he and 10 families took a chance on phonics and formed Jackson Academy. With small classes, a challenging curriculum using classical literature, daily devotionals, and adequate time for play, JA's progressive methods soon had students reading well beyond their grade level.
While JA grew to become a K3 through twelfth grade college preparatory school, (invited to be a member of the National Association of Independent Schools and The Cum Laude Society), the individual attention, small class size, and well-qualified, dedicated faculty that distinguished the school in its early years are still essential elements of the institution's character. Led by inspired teachers, students are surrounded by a community of supporters who are dedicated to helping them lead lives of purpose and significance.
Visit Jackson Academy
Schedule your personal tour of Jackson Academy's campus to learn more about JA by calling 601.364.5761 or signing up online.