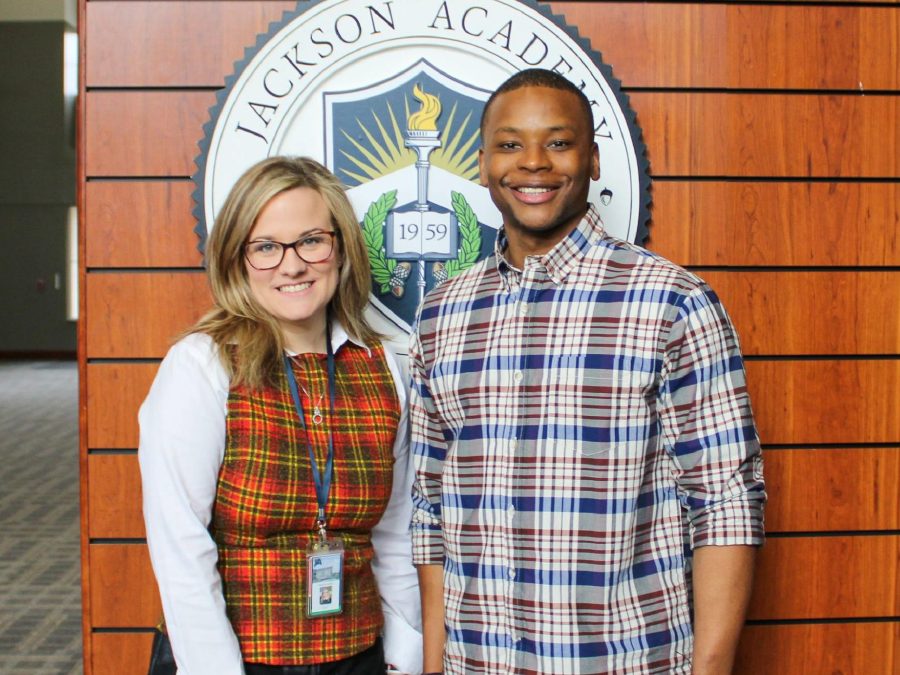 Reggie D. Ford attended an independent high school similar to Jackson Academy in Nashville, graduating in 2009. Now a motivational speaker, bestselling author, and wealth management advisor, the 31-year-old Vanderbilt graduate is recognized among young innovators on the rise.
Ford's name appears in Top 100 People in Finance Magazine, Nashville's Top 30 under 30, Nashville Business Journal's 40 under 40, and Nashville's Black 40 Under 40. He was a Forbes 30 Under 30 nominee. Although his credentials and recognitions convey success, his backstory tells an ongoing journey of perseverance, redefining normal, and finding peace.
Ford spoke to Jackson Academy faculty and staff during a professional development session on February 7 about ways to foster a safe physical, emotional, and cultural environment for students. He also presented a session to Upper School students.
Beating the Odds
For Ford, life didn't start in a way that would suggest that his future would include a nomination for a national list of up-and-coming business people. It started as an infant of a 14-year-old mother and an absent father. His dad served time during most of his son's school years.
The younger Ford was the first relative in his nuclear family to graduate from high school. His mother encouraged her son's academic abilities, and his school placed him in gifted classes. Ford participated in sports through a community nonprofit, Backfield In Motion. There, adult volunteers recognized his intelligence and skills, and by eighth grade, he enrolled in Montgomery Bell Academy.
He almost abandoned independent school, though, finding the environment so different from what he considered normal. He persevered with encouragement from his grandparents, other supportive adults, and friends. The author of "Perseverance through Severe Dysfunction" now speaks to schools about creating spaces that build resiliency for all students.
"What impressed me most about Mr. Ford was how he overcame so many obstacles in his life, yet stayed positive and continued to persevere through his struggles," said Upper School science teacher Stancie Ley. "His story of how he overcame hardships and stereotyping in life, yet continued to push forward, has brought him to where he is today- a business owner, successful author, and husband. He is a success story. His desire to help others to do the same is evident."
Creating An Uplifting Environment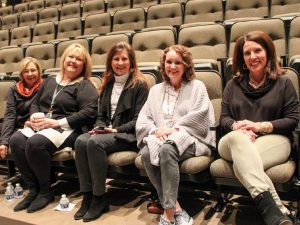 JA faculty and staff learned about creating a safe environment, never making assumptions, and making genuine connections with students. Ford presented nine steps to make these uplifting environmental factors a reality for students.
"I do believe JA fosters a very safe environment, both physically and emotionally, for our students," said Ley. "It is not just the teachers, but also the coaches, counselors, and all staff who hold that responsibility. We spend time with our students- in and outside the classrooms at their many school activities. We get to know them, listen to their concerns, and encourage them. All of this helps foster a safe environment where our students feel loved and valued."
Senior Lucy Brooks Elfert described several instances where teachers create such experiences. "One of my favorite ways a teacher has created a safe space for students is Mrs. Rebecca Fowler's Latin journals. She gives us interesting prompts like what we want to do after graduation or who inspires us in class, and we answer them in Latin. Nobody else sees them except for her, and it feels very safe," she said. Lucy pointed to Dr. Katherine Todd's assignment to use their past to write personal narratives and create stories and Kerri Sanders' Improv Fridays in Theatre Class. "Doing scenes on the fly causes actors to build trust in each other and themselves," Lucy said.
Ley added that JA also recognizes the importance of a spiritual community, offering resources for students, faculty, and staff that support spiritual health. These include chapel, Bible studies, prayer groups, and a student-led daily devotional announced through the intercom. "I believe that while going through hard times, asking God for help will help you persevere. I cannot imagine life without God by my side, especially while going through difficult times," she said.
Listening to Students
Following the faculty session, Ford talked to Upper School students and fielded questions. Insightful questions from the student body included finding an adult mentor figure when a student does not have a parent in that role and setting realistic goals when one is ambitious in a specific area.
"I think students can really relate to that feeling of everything falling apart and not knowing what comes next," said senior Lucy Brooks Elfert about Ford's talk. "It really normalized that experience for me, and I think it made a lot of people who may be going through a hard time feel less alone."
Lucy Brooks noted that students asked many questions. "I simply think that hearing someone speak so candidly is so inspiring, and we want to be candid in the same way," she said. "The question I asked him is how he can live in the present while talking about his past, and I loved his answer that you can acknowledge both. There were questions about college, adulthood, and identity from the audience."
Adults' Role in Developing Resilience
Dyslexia Interventionist Erica Jones said that educators need the reminder that even the best students have struggles. Ford's talk included remarks about struggles among high-performing students, noting that perfectionism can be a response to a traumatic experience.
Ford closed his time at JA with a lunch meeting with administrative leaders, discussing students' wellness, mental health, and emotional health. Ford said he would focus more on emotional intelligence if he were to add anything to his education. He said emotional intelligence should not be stigmatized but should be a regular part of the school day.
Jones said Reggie Ford's comment about the importance of adults in developing student resilience stood out to her the most. "He said, 'The single most common factor for children who develop resilience is at least one stable and committed relationship…'" Jones recalled. "I could be the only one for a given student."