Worldwide Program Manager of Apple Distinguished Schools Dr. Bill Ziegler, and other Apple Inc. representatives, met Jackson Academy students, faculty, and staff on January 25, 2023. They visited to observe how the school has successfully incorporated Apple technology into teaching and learning. JA's Tech Team coordinated the visit after learning about Apple's interest in seeing JA's approach more in-depth. JA is in its tenth year as an Apple Distinguished School. This designation requires extensive submission of evidence of exceptional teaching and learning using technology.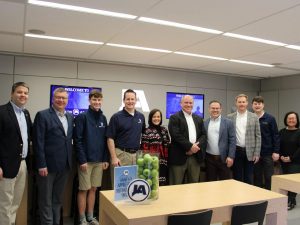 After greetings with JA leadership, Apple representatives visited campus, hearing directly from students about how they benefited from technology that provides new ways of learning and supports tried and true methods inherent at JA. Senior Dev Sharma described his role as a student worker in the Tech Center. He detailed how he helps students and teachers troubleshoot and solve any challenges with their devices.
Senior Jeffery Gao and student newspaper sponsor Sara Bannerman detailed how moving the "JA Chronicle" newspaper to a digital format benefits the environment and the school. Apple representatives visited classrooms, the Performing Arts Center, and the Raider Network truck, the central command post for students and staff who provide live coverage of JA athletic contests and school programs and events. There, they heard accounts by seniors Samuel Long and Walker Lake, who have active broadcast roles.
In the Learning Commons, representatives heard from Library Media Specialist Bronwyn Burford. She spoke about efforts to teach students to be wise and responsible consumers of digital content. SOAR Director Dean Arnold described the school's outdoor program. SOAR challenges students to step beyond their comfort zones. They learn leadership skills and team building through ropes courses and other adventures outside the classroom.
Head of Lower School Sarah Love talked about the importance of gender-based math in fourth grade. Third graders showed how they employ coding in a STEM lab. Lower School students demonstrated a Hoberman sphere that helps focus on mindfulness breathing to support social and emotional health.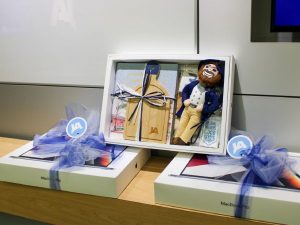 Before departing, Apple representatives received Apple computer boxes loaded with JA gifts and material, including the most recent "True Blue" magazine, the JA cookbook, and even a Raiderman! JA is grateful for the visit from Dr. Ziegler, Apple Education Leadership Manager Jay Matheson, Ed.D., and Apple K-12 Leadership Executive Robert Garrett.