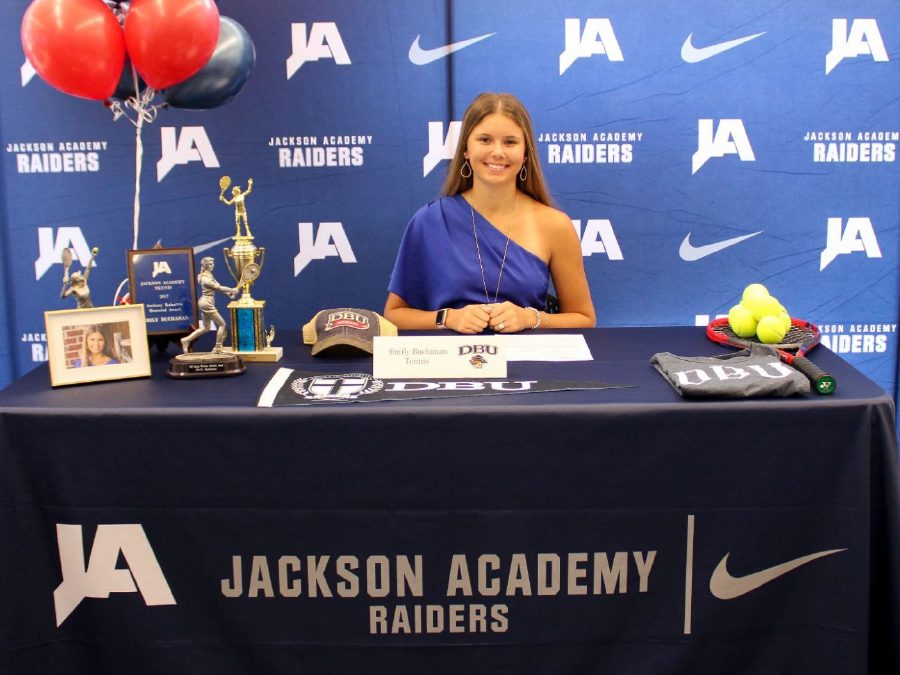 The Class of 2023 watched senior Emily Buchanan sign to continue her academic and athletic career next year at Dallas Baptist University. This marks the fifth JA athlete to sign this year. In sixth grade, Emily joined the JA varsity tennis team, becoming a starter in seventh grade. She is the daughter of Niles and Nicole Buchanan.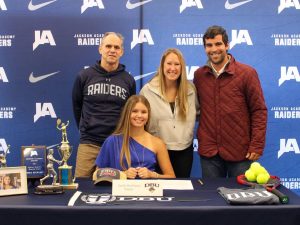 Emily has won four individual state championships for JA tennis. Outside of JA, she is also a two-time state champ. She has received the Raider Award twice and the Anthony Kalantzis Memorial Award. Emily will make the Super Seven after this season. Outside of JA, she has received the George Wilkerson Memorial Award. She was a member of the girls varsity MAIS Basketball State Championship in 2021. Emily holds the record for most three-pointers made in a single game. On her Junior Team Tennis team, she finished fourth in the nation in 2019 and third in 2022.
Emily has been on the honor roll since the ninth grade. Currently, she is involved in the National Honor Society, Mu Alpha Theta, the paintball club, the cooking club, the Spanish club, and the service club.
"I can still remember when Emily told me she was going to quit basketball to focus on her tennis because she wanted to get a college scholarship for tennis, and honestly, my first thought was Coach Sojourner is going to kill me," Coach Mary Rebecca Jeffries said. "But over these past few months, I have seen her drive and dedication, and I could not be more proud of her that she achieved her goal of receiving a scholarship. I wish her the very best of luck over the next few years at Dallas Baptist University."