Last Tuesday, SOAR Director Dean Arnold spoke to the Upper School finance class about buying a home. Upper School Librarian Bronwyn Burford teaches the finance class. Burford's finance class studies the housing market, debt-income ratios, insurance, and taxes. Arnold is in the process of buying his first home, so he was a perfect speaker to give advice on this topic. He provided his housing documents via PowerPoint to show the students a real-life example of the home-buying process.
"Talking about the home buying process, from what it's like going to an open house, to what it's like to organize your home budget are important guidelines when entering the housing market," Arnold said. "I think that it is important that students understand the basics of what it is like buying a home and what it is like for a person that is somewhat close to their age." The SOAR director gave relatable ideas on how to save money, such as having a roommate. Arnold also gave ideas on how to create side hustles, save money, and set goals.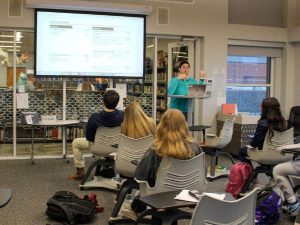 The JA finance class received helpful insight, not only dealing with finance but incorporating real-life events to apply knowledge learned. Arnold was able to give an example of someone in the process of buying a home. After Arnold's speech, students searched on Zillow for their potential homes based on salaries and location. The class quickly realized how necessary saving money is to be able to afford a great home.