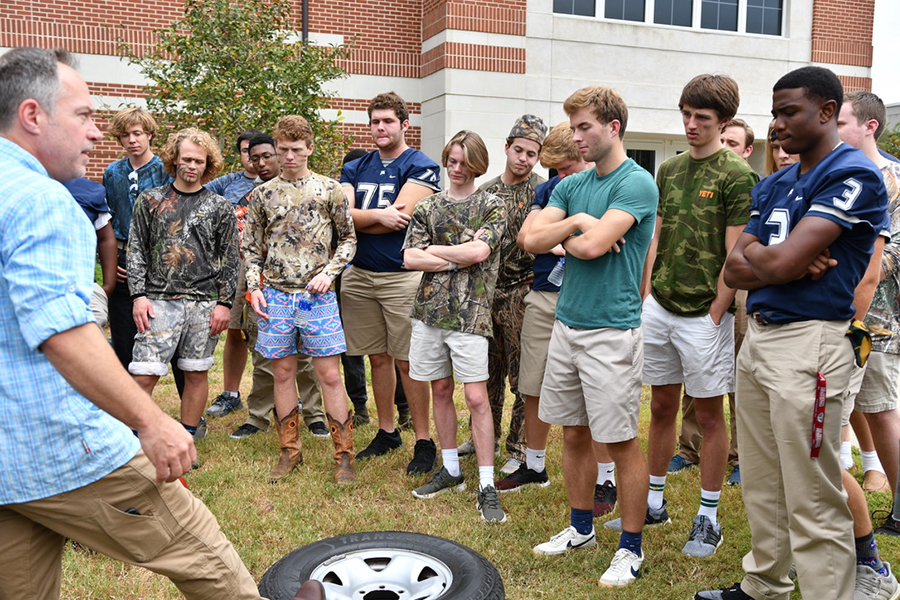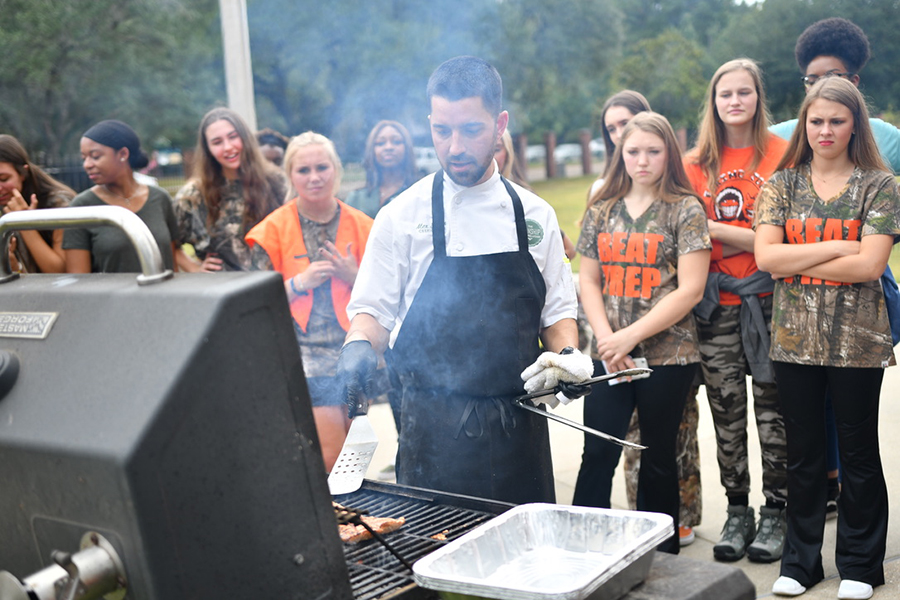 Do you remember the first time you changed a tire? Fired up a grill? Seniors learned and practiced several invaluable abilities at Jackson Academy's inaugural Life Skills Day last Friday, rolling up their sleeves to work with local experts like Chef Alex Eaton of Aplos and The Manship; John Dinkins '84 and current JA parent; JA counselors Paula Pratt, Mandy Robertson, and Amy Bush; Corporal Suttles of JPD; and David Robinson and Keith Kinkade of Kinkade's Fine Clothing. The event was the first part in a series of programs developed jointly by our Development and Counseling Offices.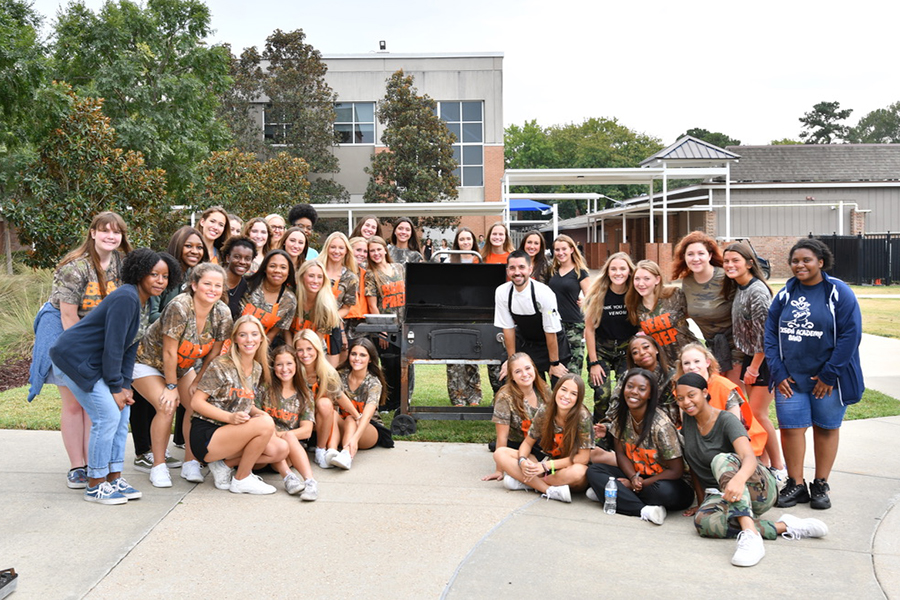 At the start of fourth period, senior girls gathered around a grill behind the PAC, listening as Chef Alex Eaton casually listed the meats that were about to cook on the grill, saying "We're going to use ribeye steak, redfish, chicken breast, and salmon." Eaton taught the girls how to prepare a fire, season the different meats, and judge how well-done steak is before pulling it off of the grill. When all of the meat came off of the grill, a taste-test earned Eaton all "A"s from his students, and he generously gave each of them a free pizza at The Manship Wood Fired Kitchen.
While the girls learned to grill, the guys were noisily preparing two delicious desserts to share with them after lunch. The banana pudding and chocolate trifle were a hit with everyone, accompanying a lunch catered by Valley Food Services.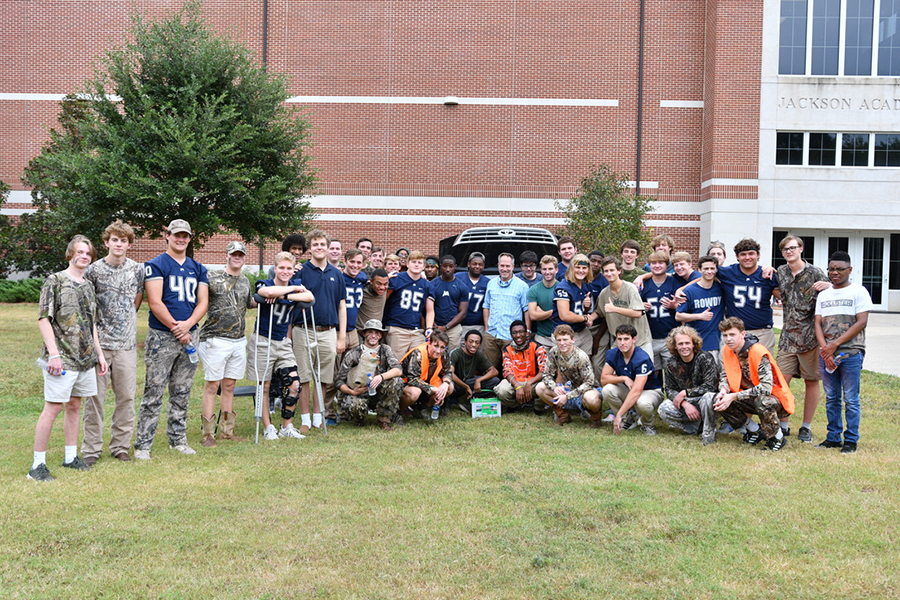 After lunch, the boys went outside to learn from John Dinkins '84 taught them how to jump-start a car and change a tire. The girls stayed in the PAC lobby to hear from Corporal Suttles of JPD about remaining aware of their surroundings and helping each other to stay safe..
"You are the most precious thing in this city," Suttles said, "That's why I need y'all to take this very seriously." The group discussed how to handle suspicious traffic stops, unmarked vehicles, and dating safely in college. Throughout his talk, Suttles repeatedly said, "The most important weapons that you have are your eyes and your ears."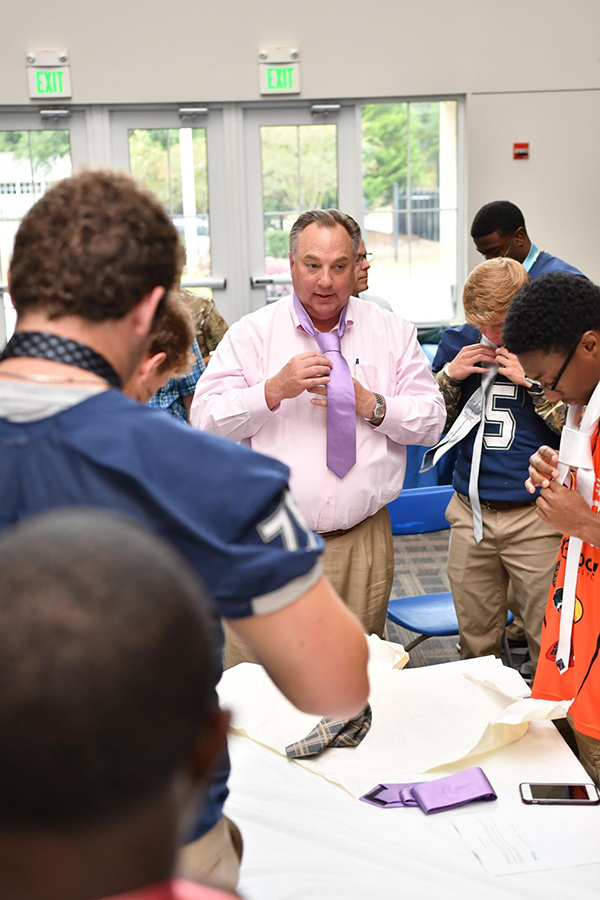 It began to rain, and the two groups traded places. The girls learned about changing tires and jump-starting cars while the boys heard from Keith Kinkade and David Robinson about the proper techniques for tying ties and bowties and folding pocket squares. They even surprised the boys by giving them each a tie!
As the day came to a close, the Development Office had one last surprise for the students, announcing the launch of JA's new Alumni Mentor Program. Through the program, each senior has been paired with a JA alum who currently works in a field that the student is considering pursuing a career in. The program gives students an amazing opportunity to get an up-close look at the day-to-day rhythm of the career that they are interested in, so that they are better prepared to choose a college, a degree, and a career.
Through the lessons they learned at Life Skills Day, students built confidence and readiness to take on real-world challenges. What's next in this series of events? Most likely, how to do laundry.