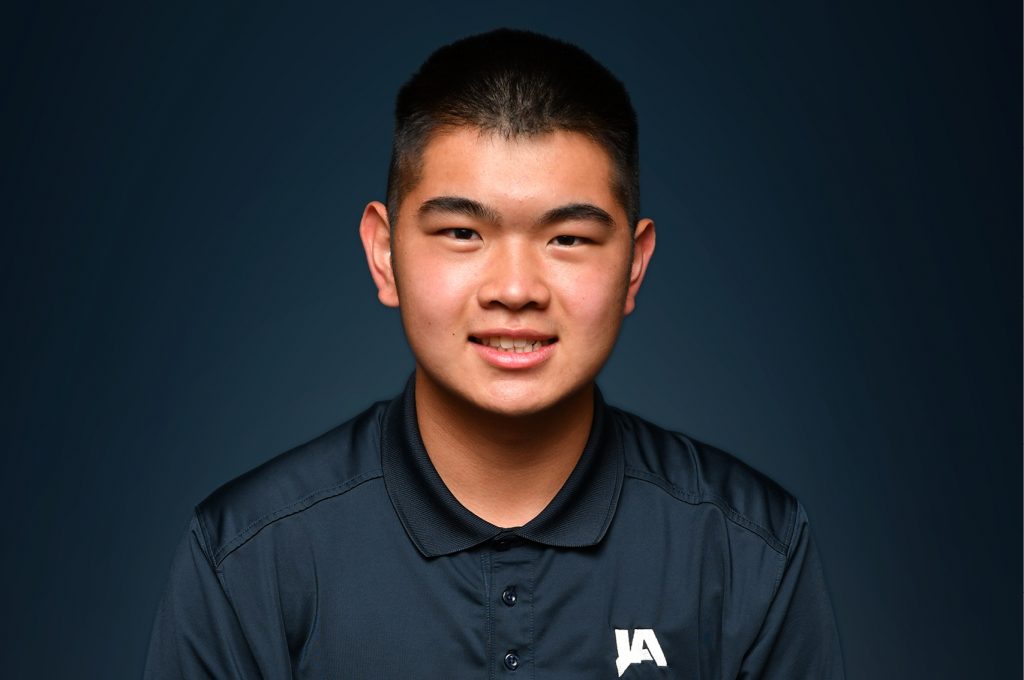 Rising junior Jeffrey Gao of Madison has been named a Jernberg Scholar for the 2021-2022 school year. Jackson Academy awards this scholarship to current and incoming students who enhance their school community through academic excellence and character. The scholarship honors JA President Emeritus Peter Jernberg, who significantly influenced independent education during his career in education that included 26 years at JA.
Jeffrey, who has been at JA since first grade, is the son of Pei Jian and Jie Zheng Gao of Madison. His younger sister Crystal is a rising eighth grader at JA.
His teachers describe him as a conscientious and dedicated student who is a leader in his class, contributing insight in the classroom that demonstrates maturity and confidence. He is dependable, compassionate, and hard-working.
While teachers observe these qualities in Jeffrey, he quickly points out that the JA environment and his friends motivate him. "Besides the amazing teachers, I love the healthy competition at JA. Students in my friend group and in my grade, in general, are all so talented and hard-working that they make me want to push myself to be the best version I can be," he said. "Whether it be in academics, athletics, or other things, seeing other people be successful makes me want to be successful. It is like peer pressure but in a good way."
The Jernberg Scholarship considers students for their academic achievement and for virtues that emulate Peter Jernberg's character. Upper School Counselor Paula Pratt can see those virtues in Jeffrey. "He has a kind heart like Peter Jernberg, where he puts others ahead of himself at all times. His work ethic mimics Mr. Jernberg's. He would work hours and hours, and Jeffery is the same way," she said. "He has the best manners like Mr. Jernberg. If a student needs a seat, Jeffrey is going to stand up and give them his seat."
Pratt goes on to say that Jeffrey's work ethic is one of his most notable qualities. "He works hard as a student in academics, in JA's Tech Center, and after school in his parents' restaurant, Edo, in Jackson. He is an amazing person." Pratt has seen how his customer service attitude, likely gained from years of working in the restaurant business, comes into play when working in JA's Tech Center. "If a person comes into the tech center concerned about something, his calm manner eases the situation and helps solve the problem," she said.
Along with his Tech Center work, Jeffrey plays tennis and is involved with math competitions and the chess club. In the community, he is a food service volunteer for the Chinese Christian Church of Greater Jackson.
"Some of my favorite classes from this past year include Honors English with Mrs. McKay, Honors Chemistry with Coach West, Honors Algebra II with Mrs. Hood, Latin II with Mrs. Fowler, and World History with Mr. Tucker," he said.
After graduation in 2023, Jeffrey anticipates attending a selective college and studying a technological field, such as computer science or software engineering. "I would like to also minor in business and perhaps even run my own tech firm one day," he said.
As one of several highly qualified applicants, Jeffry completed testing, essays, recommendations, and school and financial applications. Finalists completed an interview with the scholarship committee. The scholarship carries a financial award through graduation as long as scholarship criteria are maintained.
The Jernberg Scholarship, partially funded by an endowment, is the only scholarship offered to incoming and existing students. The Jernberg Scholarship also differs because it requires an application process, including a financial aid application, and can fund up to full tuition and fees. JA awards the Jernberg Scholarship each year as long as the student maintains the award criteria.
With JA's other endowed scholarships, donors have designated their gifts for currently enrolled students who emulate specific academic, sport, or citizenship characteristics. These endowed scholarships are one-time awards that help defray a small portion of the cost of attendance in a single year. The Jernberg Scholarship is a multi-year scholarship requiring an extensive application process that takes academic rigor, character, financial need, testing, interviews, and recommendations into consideration.