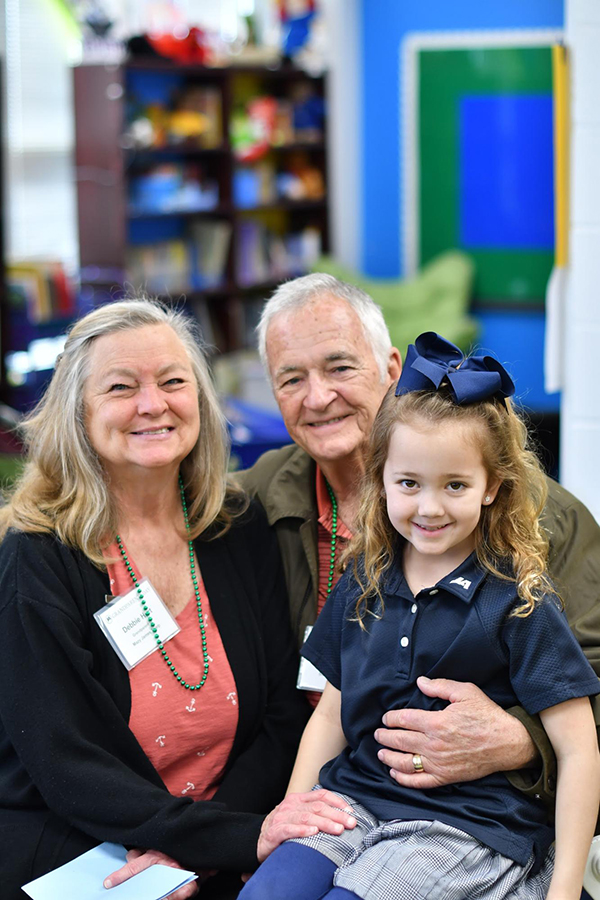 Grandparents and special friends of JA's first graders gathered in the PAC last Friday morning for Grandparents Day 2020. When all of the guests were seated, the students paraded into the auditorium waving flags. The students serenaded their audience with You're a Grand Old Flag and the Grandparents Day song, with lyrics: "We think you're wonderful! We think you're awesome! We think you're really cool! You're G-R-A-N-D!"
"I'm Jack Milne, and I work for your grandchildren," Head of School Jack Milne said laughingly. Along with Head of the Lower School Sarah Love, Milne gave everyone a warm welcome before sending them to spend the morning in class with the first graders. The grandparents and students followed a rotation that led them through P.E., STEM, Spanish, library and music class, and included a break for light refreshments.
In P.E., the students showed their grandparents how they practice coordination and teamwork through the games that they play. They also showed how they exercise math skills in P.E. by following instructions to add and subtract points for completing different tasks to discover which team has won a game. Next door to the P.E. class, everyone played instruments in music class. Brenda Sullivan, our lower school music teacher, read a story aloud in which certain phrases cued different instruments to be played.
In STEM class, students showed off their coding skills by programming an electronic mouse to move through a maze. Many of the guests marveled at how the study of science has changed over the years. Down the hall from the STEM lab, Ana Tucker addressed classes as she normally does – almost entirely in Spanish. The students answered her questions and described the weather, colors, and translated a short story from Spanish to English for their grandparents.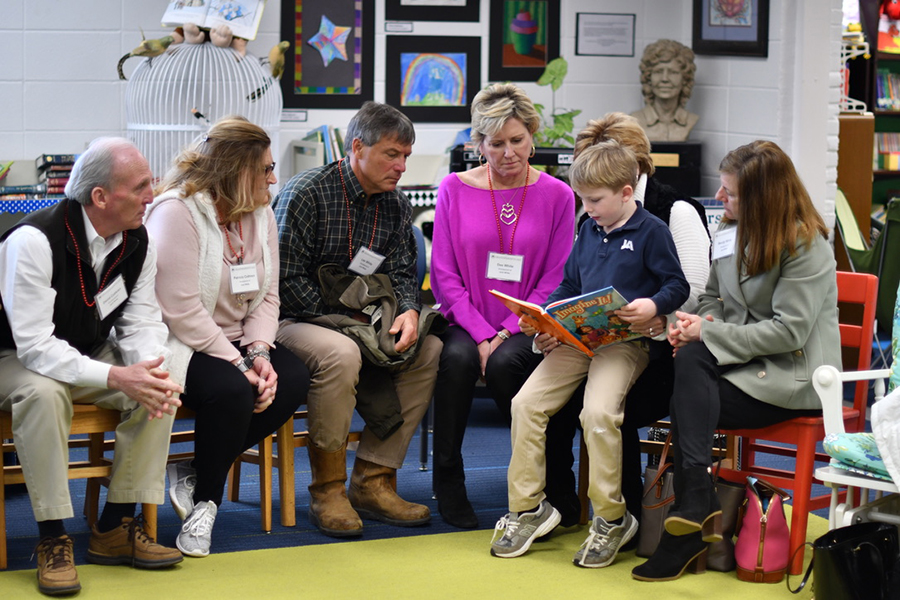 The Lower School library is across the hall from the Spanish classroom, and while there the first graders read stories aloud to their guests. After watching the students demonstrate how morning meetings help them start their days, grandparents and friends gathered around to listen. The PAC lobby was the site of a beautiful spread of snacks, and a photo booth for family and friends of the first graders to create a memento from their day together at school.
At the end of Grandparents Day, the first graders lead their guests to one final location: their classrooms. Once there, the students present their grandparents and special friends with a gift to thank them for the gift of their presence in the first graders' lives. Grandparents Day enriches the lives of everyone involved by strengthening the bonds of family and friendship and creating beautiful memories of togetherness and fun.
Click for more photos from Grandparents Day on the JA Facebook page.