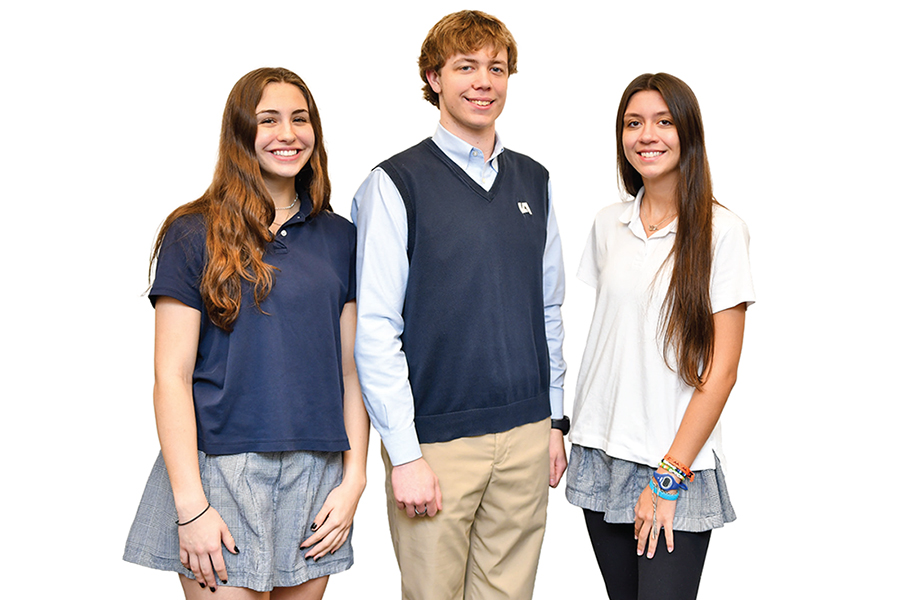 Each year, Mississippi Christian Living magazine, in partnership with Belhaven University, recognizes high school seniors as future Christian leaders. We are pleased to announce that three JA students were chosen with 21 other finalists. Miles Johnson, Sydney Morris, and Anna Katherine Ray will be recognized on March 3 at Belhaven University. Two students out of the 24 will be selected to receive scholarships. Students submitted applications along with a personal statement and essay to qualify for this recognition, and answered questions about their faith.
Miles Johnson
Miles Johnson is a member of the Upper School show choir, concert choir, cross country team, quiz bowl team, academic competition team, and is now a Mississippi Christian Living Christian Leader of the Future. Miles described his fascination for learning in his application for the scholarship. "I believe God is calling me to be an aerospace engineer. He's gifted me with a good grasp of math and science, and I enjoy those subjects in school. I especially like physics, and I can't wait to learn more in the next few years."
Miles worked hard to pay his way for a mission trip last summer where he fell deeper into the footsteps of Christ and faced hard decisions. He recently reflected on his time at an Indian reservation in Washington where he realized the true meaning of the Gospel. "When I went with my parents to Yakama, I experienced putting our faith into action," said Miles. "The native kids 'on the Rez'' don't experience love from their parents, because many of their parents' generation have fallen into addictions or are involved with gangs. Sacred Road Ministries, the ministry we were working with, gives all the love they can to the kids through kids' club, a playtime/Bible study, and they provide for the needs of the community through work projects for the adults living on the reservation." Mathew 26:36-46 is a passage that means a lot to Miles, "This passage represents to me the never-ceasing love God gives to us, as well as an example of the submission we should give to God." Miles looks up to his father as a representation of Christ.
Sydney Morris
When Sydney Morris, a member of the national honor society, manager for the JA Accents, and a member of the Spanish club, reflected on being recognized as a Christian leader of the future, she said,"This recognition means so much to me; a few of my older friends have been up for this scholarship in past years and it has always been something that I have kept my eye on."
In Sydney's essay, she mentions a church retreat called DNOW, where she had a spiritual experience of God's presence. "I prayed that night that God would help me find Him just as He had helped Peter walk on water. The next morning our entire group went to the retreat church service, and the band began playing. The lead singer said, "The next song goes out to those of us who are looking to accept Christ, this is your chance." The song Oceans by Hillsong United started playing, and I instantly remembered the story and my prayer from the night before—both about oceans."
Sydney said this was the moment that she decided to fully accept Christ. Sydney lives by the verse Jeremiah 29:11 as a reminder that God's plans for her are being worked out. "I frequently become stressed when it comes to future plans. I like to know exact plans of what to expect in every circumstance, so I have to remind myself to just trust God's plan and not get worked up about future events."
Anna Katherine Ray
"This recognition means so much to me. There are so many people I look up to in my life as being Christian leaders, and I hope that I can be a positive influence for others, especially young girls in my community," said Anna Katherine, JA's varsity volleyball captain. Anna Katherine leads on and off of the court in activities on campus, where she is a member of many organizations, including the Honor Council, student council, cooking club, Latin club, student ambassador, national honor society, quizbowl team, and the Harry Potter club.
One of Anna Katherine's motivations for applying for Christian Leaders of the Future centered around the painful experience of losing a close friend in a car accident. "Through this hard time, God broke down my faith in order to rebuild it stronger than it had ever been before." She learned to have patience, live out her faith, and carry God's light out into her community. During her ninth grade year she went on a spring retreat where she fully experienced her faith. "The final night of the retreat, I felt called to ring the bell in the center of the campgrounds and publicly accept Christ into my life and into my heart."
Anna Katherine has overcome academic challenges that have come her way and believes JA has prepared her well for college, "Being involved on campus while also taking AP classes has taught me time management and mental toughness, but JA has also provided me with a support system of teachers, friends, and coaches that are there for me when I need a helping hand." Anna Katherine lives by the comforting words of Romans 8:38-39; "Neither death nor life, neither angels nor demons, neither the present nor the future, nor any powers, neither height nor depth, nor anything else in all creation, will be able to separate us from the love of God."