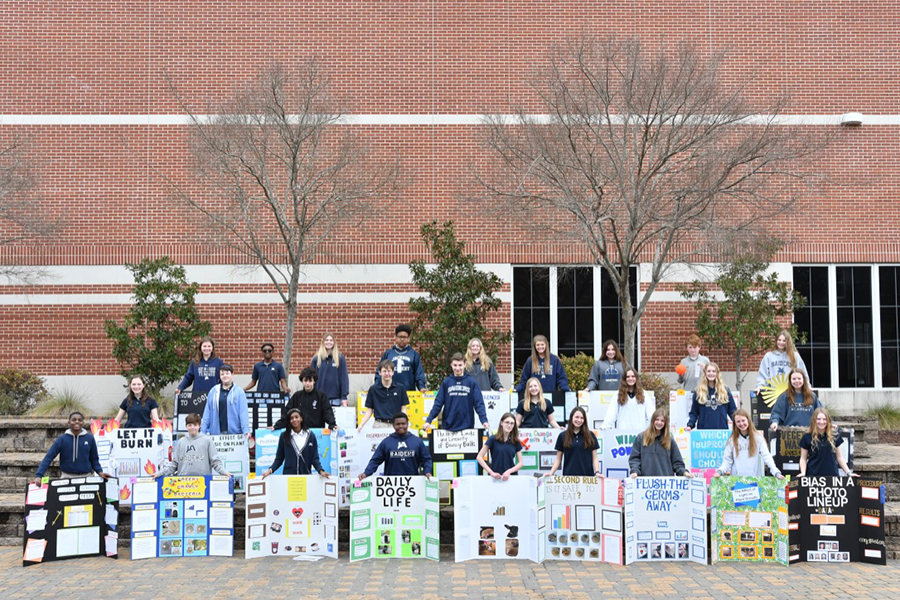 On Monday morning, the PAC gallery was packed with rows of tables topped by trifolds and props representing the scientific studies submitted to JA's first Eighth Grade Science Fair. After three months of research, which included writing a research paper and one-on-one discussions with Eighth Grade Science Teacher Whitney Allen, it was time for the students to present research and findings to a panel of judges. Students excitedly showed one another their work while awaiting the judges' visit to their table.
Allen planned the science fair as a way to challenge her students and broaden their perspectives on science's usefulness. "I wanted our students to have a chance to dig into STEM areas by having a way to express themselves in areas that they are most interested in (or may not know they are interested in)," she said. "The science fair offers students a chance to research topics that we may not cover in class and allows them to come up with creative solutions for many common problems. It also gives students a different outlook on learning and let's them see how science can be used outside of the classroom environment."
The students' experiments covered a broad range of scientific disciplines, such as engineering, chemistry, zoology, and behavioral and social science. They explored questions like, "What creepy, crawley bacteria inhabit our everyday teenage life?" and "Is a composite face more attractive than a real face?" Engineers from Ergon, officers of the Department of Wildlife and Fisheries, a USDA biologist, and other volunteers served as the judges, evaluating students according to criteria such as creative ability, scientific thought, clarity, and thoroughness.
The Eighth Grade Science Fair allowed students to immerse themselves in scientific study and cultivate the creativity and imagination that lead to new discoveries and novel solutions while also practicing presentation skills. At the end of the day, 27 students were recognized with first, second, or third place ribbons for their work. Eighteen of those students, the first and second place winners, will go on to compete at the district level science fair hosted by Hartfield Academy on March 17. "The 2020 Eighth Grade Science Fair was a great success," said Allen. "Students have said they enjoyed getting to participate and did not realize how much fun they would have until they were presenting and getting to see their classmates' presentations."