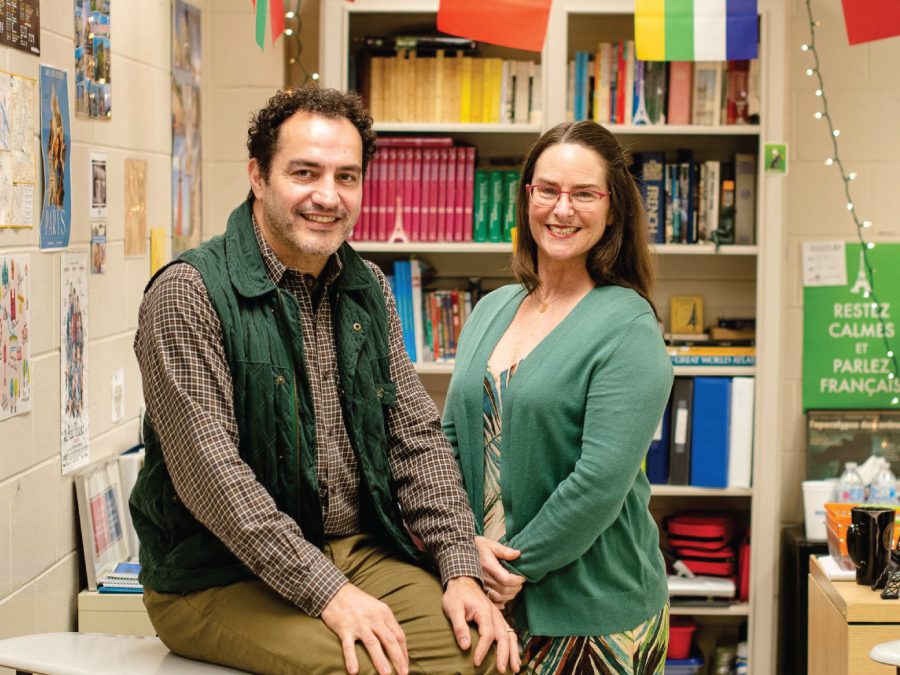 Jackson Academy has two Francophones helping Upper School students discover the beauty of the French language and culture. Monsieur Zoubir Tabout and Madame Tanya Newkirk offer French 1-4 this year.
Tabout is a native speaker, originally from Ermont, France, about 11 miles from Paris. Newkirk began her formal study of French at age 14 when she traveled to France with her school for intensive language study. Both teachers are working to help students love French as they do with methods that connect students with the language and culture.
"I often tell students about my experiences learning French, especially during my times studying, living, teaching, and working in France over the course of my life, starting at age 14, when I first traveled and studied there for five weeks with fellow students from my high school," said Newkirk. The students traveled extensively throughout Provence and the Côte d'Azur, and north through Dijon to Paris, with their French teacher and his wife, both French themselves. They took intensive language classes at the international boarding school in Sophia Antipolis, near Cannes, where they lived for the majority of the program.
Tabout draws teaching methods from his love of nature, cooking, and music to make French appealing to students. He enjoys the tradition in his culture where "everyone gathers in the kitchen, and they all cook together! Sharing stories, memories….it is a real moment of joy and happiness."
Along with personal examples, Tabout employs music, song lyrics, games, a cooking class, and outdoor class sessions to help students focus on French lessons. "My goal is to have my students at ease while I'm teaching them a foreign language so they can absorb and enjoy the discovery of the beauty of French culture," he said.
Junior Josh Watson, who is in Newkirk's class, especially enjoys the final course of the week. "Our cultural study days, also called 'French Fridays,' are by far my favorite activities," he said. "On these days, we study an aspect of French culture. In the past, we've watched the French National Soccer team, learned about French holidays, and played Pétanque, a recreational game famous in France."
Both Josh, and his junior classmate Cole Powers, enjoy Pétanque. They also like the way French can be used in their lives. "I use French to understand references in literature," Cole said. "For example, in the book Watership Down, Richard Adams used a quote by Napoleon."
Newkirk believes having students speak as much French as possible in the classroom is crucial to developing "an ear" for the language. "We also know from neuroscience that one of the most effective ways to learn languages is to write the language by hand, which may seem old-fashioned these days," she said. "But we know that the neural pathways from the eye to the brain to the hand and back are extremely important in the retention of information in the new language."
Although Josh has not interacted with many French speakers in Mississippi, he has encountered the French language more often than expected. "One example is music," he said. "Some of the most beautiful classical music was written in French. I'm actually learning a piece right now in French. I also anticipate using French in the future. I am looking at college abroad in France and Canada, and understanding and speaking French would be extremely beneficial."
Both teachers enjoy piquing students' curiosity about another culture, style of life, and language. They believe familiarity with a language and culture opens students' horizons and will be beneficial in their college years and travel. 
"It is vital for students of art, art history, government, international relations, philosophy, anthropology/archaeology, and literature, just to name a few topics," Newkirk said. "The study of French also helps tremendously with English (grammar and writing, in addition to the study of literature). The huge number of cognates helps students expand their own vocabulary in English. Studying a foreign language has been proven to help students do better in all subjects, putting them in a strong position to learn a variety of new subjects once they enter college. And of course, having a working knowledge of French is ideal for anyone who wants to travel the world!"
"I hope one day I will be able to organize a French trip for my students," Tabout said.