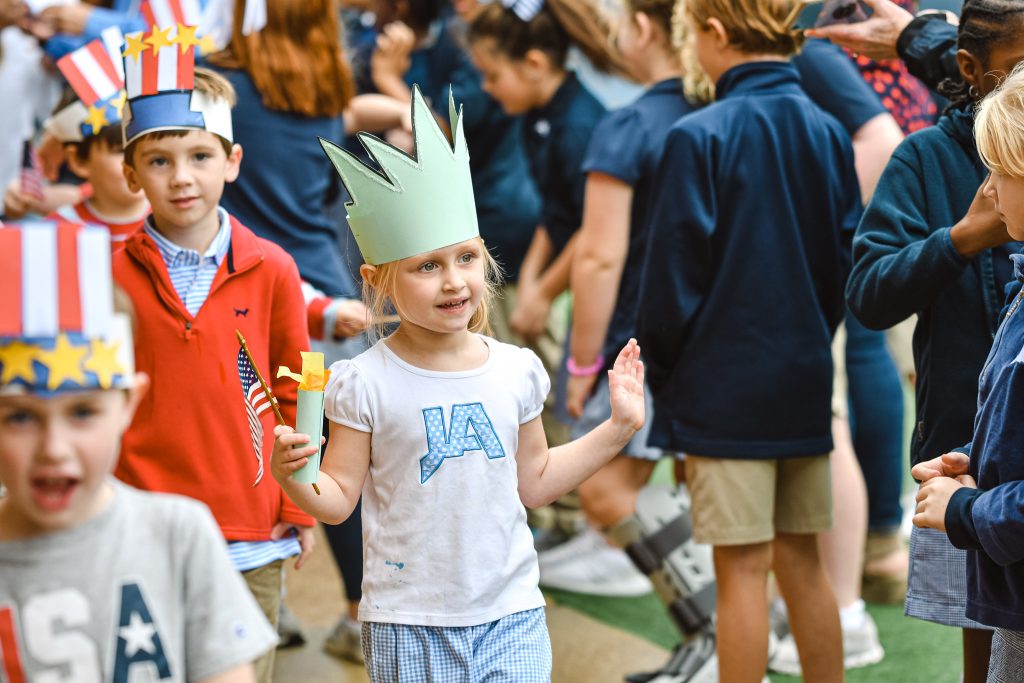 On November 11, 1919, Americans observed the first anniversary of the First World War's end. This day of solemn remembrance was called Armistice Day and was celebrated in honor of all those who served during the war. Today, Veterans Day provides citizens with the opportunity to express gratitude to those who have served in all of our nation's wars, particularly those still living.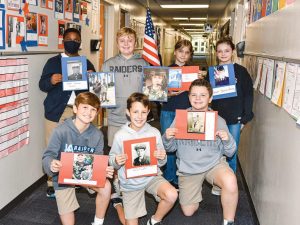 Last Thursday, November 11, 2021, the Lower School presented its annual Patriotic Day program to an audience of family members who currently or previously served in our nation's military. Each grade sang a song and recited a poem, celebrating American history and expressing gratitude for the freedoms protected by the military. One such presentation described the history of the Armed Forces' five branches: Army, Navy, Coast Guard, Marines, and Airforce. During a medley of the Armed Forces' songs, veterans stood as the song from their branch was played. A slideshow presentation shared images of the veterans related to Lower School students and teachers. To end the program, the students circled the auditorium to sing You Are Our Heroes directly to the veterans present in the audience.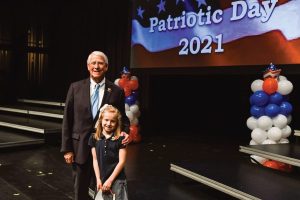 Later Thursday morning, the Preschool students gathered in the Activities Building wearing festive hats of all kinds – some like Lady Liberty's crown, others representing Uncle Sam's top hat. Each of the three grades sang one patriotic song to their audience of Lower School students and veterans who are parents of JA students. After everyone sang a song together, the students paraded around the Lower School playground waving flags and smiling.
Along the Middle School hallway, teachers created an area where students could display photos of the veterans in their lives. The display filled the wall. The students also made cards to deliver to veterans on staff at JA and shared them in person with PAC Assistant Ken Posey and PAC Technical Director Andy Prince.
As the clock turned to 11:00 a.m., a lone trumpet sang out across campus as Addie Elliott of the Upper School band participated in a nationwide event called Taps For Veterans, in which buglers usher in two minutes of remembrance by playing Taps at 11 a.m. on November 11. Those two minutes have commemorated the end of World War I since the first observation of Armistice Day in 1919. In America, those two minutes are also dedicated to remembering the men and women who are veterans of all of this nation's wars.