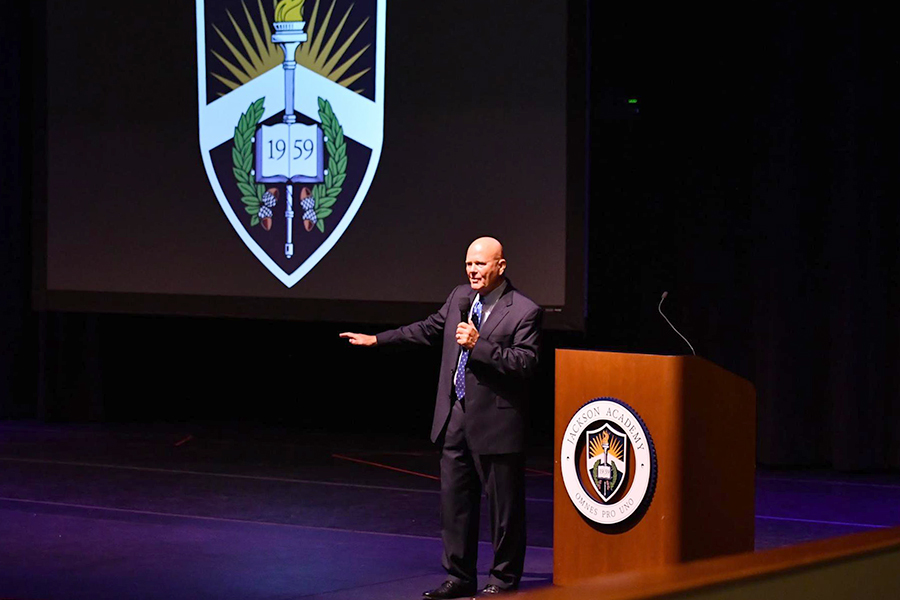 Before students arrive each fall, teachers and staff busily prepare the classrooms and the campus. During Teacher Work Week, a pause to this pace occurs for a gathering of all faculty and staff. This year, the group heard inspiring messages from the Executive Director of the Mississippi Baptist Convention Dr. Jim Futral, JA Board of Trustees Chair Scott Pedigo, and JA Head of School Jack Milne.
Dr. Jim Futral
Dr. Futral presented the keynote address of Teacher Work Week. He told how The Honorable George H.W. Bush described to a reporter his attitude after life challenges: being shot down during WWII, losing a daughter, and a presidential election defeat. Using aeronautical terms, Bush responded with "CAVU," an acronym describing when the ceiling and visibility for a pilot are unlimited. Dr. Futral explained that we limit ourselves by not listening to God, or we place unnecessary limits on ourselves and others. "Start your day and look forward to the CAVU moment in each day–where your ceiling and visibility are unlimited … let God do something wonderful in your life today," he said.
Scott Pedigo
Thirty-six years ago, Scott Pedigo rode his bike to JA as an 11-year-old. He did not know a soul. "It was fantastic," he recalled. "The first day at JA was one of the best days of my life. One thing that has not changed since those years is the loving, caring, nurturing spirit of our faculty and staff." With the 2019-20 faculty and staff, Pedigo said he looks "forward to seeing what we can all accomplish this year."
Jack Milne
Jack Milne referenced a phrase from the 1928 Episcopal Book of Common Prayer that reads "…grant us grace always to live in such a state, that we may never be afraid to die." He paired this with one of his favorite quotes from education advocate Horace Mann, who said, "Be ashamed to die until you have won some victory for humanity." Taken together, those seemingly contradictory statements epitomize why educators do what they do. Milne said daily, if not hourly, faculty and staff are presented opportunities, both large and small, to impact humanity. "Education is a sobering privilege and humbling responsibility. What profession offers more important ways to win victories for humanity and to honor our God?," he said.