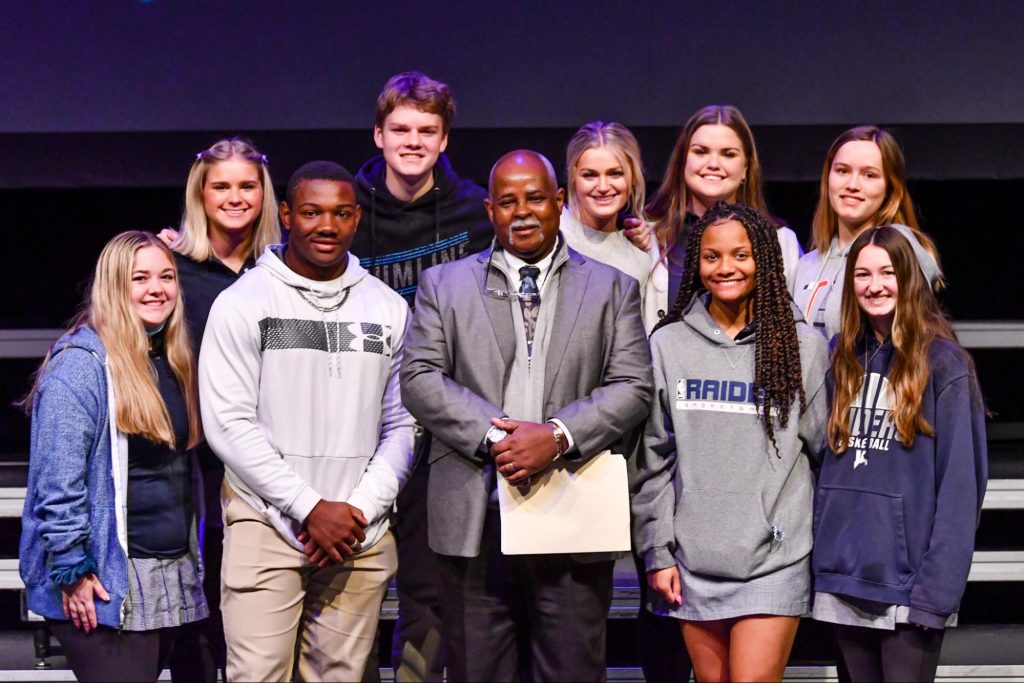 Each morning during February, Upper School announcements featured a moment of reflection and inspiration drawn from Black history. On their way to classes, students paused to read from a bulletin board full of Instagram-styled pictures and biographies of famous Black men and women. Perhaps one of the most powerful Black History Month activities was last week's chapel service. On Wednesday, students filed through the PAC lobby past tri-fold displays and art pieces created in honor of Black History Month on their way to hear a message from Upper School Chemistry Teacher Richard West.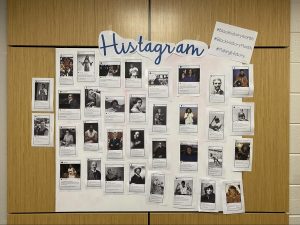 Before junior Kennedy McKee introduced West, Marcus Harris, also a junior, shared a poem with the student body. "Too Black" is a personal and insightful composition based on a poem by the same name that Marcus altered in collaboration with his mother, to highlight different aspects of his unique experience. Students and teachers were touched by Marcus's willingness to lead and to share his perspective.
West shared the story of a little Black boy born in a small Mississippi town, raised by his grandmother, learning to read only to find signs that mandated segregation on every business and public service. That little boy was West. Students listened intently as their beloved teacher described watching his grandmother work as a maid to support their family, and how he learned in school that black people were either slaves or maids, and watched the KKK burn a cross in his grandmother's front yard. 
Those stories from his life were the introduction to a powerful message that West shared. He transitioned to the core of his message by saying, "We have a human problem, so what we're looking at are the consequences of the human problem." West then posed four questions to his listeners: Who am I? Why am I here? What's wrong with this world? How do we fix it? "We need to inventory our own lives; we don't need to point fingers," said West.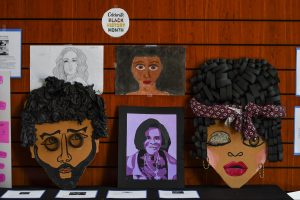 Drawing from the book of Genesis, chapter 1, he answered the first question; "We are created in the image of God, whether we are saved or unsaved. After being saved, we become children of the most high God." The second question's answer came from Colossians 3:17, which says humans are meant to glorify God in all that they do. West paused and challenged his listeners to consider their character, conduct, and conversation and evaluate how they currently choose to impact others.
To answer his third question, West drew from Psalm 119:176, saying, "We have all turned our backs on God in some way or another." West answered his final question by reading the following verses from Matthew 22:37-40: 
"'Love the Lord your God with all your heart and with all your soul and with all your mind.' This is the first and greatest commandment. And the second is like it: 'Love your neighbor as yourself.'" 
"This is how we solve the root of the problem," West told students before ending his message with a reading from 1 Corinthians 13:4-8, which describes what real love looks like in a person's life. Upon exiting the stage, he received a standing ovation from the student body for his honesty, clarity, and compassion.
In April, Upper School students will take a virtual field trip to the Mississippi Civil Rights Museum. This trip, initially scheduled for March, has been rescheduled due to winter weather. Readers can view West's entire message on Raider Network by clicking here.