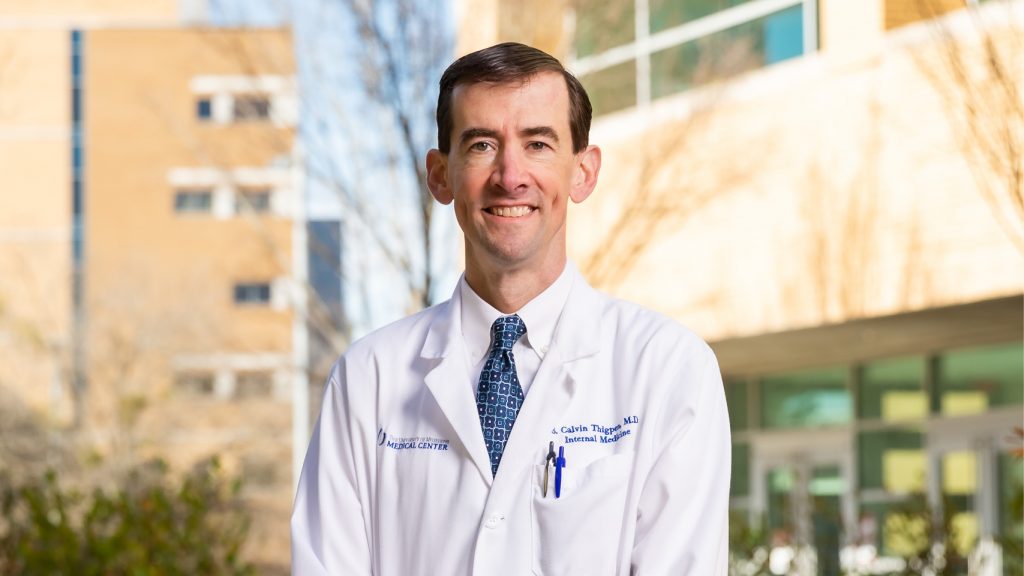 His inspiring address in conjunction with Senior Class Awards Day gave upcoming graduates five lessons that were applicable immediately—and are enduring. Calvin Thigpen, M.D., '94, who is vice-chair for education for the University of Mississippi Medical Center Department of Medicine, associate professor of medicine, and program director for the internal medicine residency program, is the second recipient of the Jackson Academy's Distinguished Alumni of the Year award. JA's first recipient was Phillip Bowman '86. It is now the tradition that the Distinguished Alumni of the Year recipient presents to the senior class at their annual awards night dinner. Thigpen spoke on April 26 at The South in Jackson.
The award is presented annually to an alumna or alumnus who is leading a life of purpose and significance through professional achievement, service to the community, and/or loyalty to JA. Eligible nominees will have graduated from Jackson Academy and have been an alumna or alumnus for at least ten years before being nominated for the Distinguished Alumni Award.
After graduating from JA, Thigpen completed a bachelor's degree in chemistry from the University of Mississippi. He was honored as the nation's top male scholar-athlete, receiving the 1999 Walter Byers Award presented by the National Collegiate Athletic Association. He distinguished himself by becoming a Rhodes Scholar. At the University of Mississippi School of Medicine, he was president of his medical school class and was named Medical Student of the Year. After completing this degree in 2005, he completed a three-year internal medicine residency and served another year as chief resident. A fellowship followed this in hematology and oncology. Thigpen and his wife Lee Ann are the parents of three children at JA, Emery, Willis, and Louisa Clare.
In his remarks, Thigpen emphasized the importance of finishing well. He encouraged graduates to adhere to five actions that make a significant difference in one's life, actions he acknowledged that he followed at times and at other times wished he had heeded more fully.
Show Up
Thigpen pointed out the importance of being present — both physically and mentally. "You'll be amazed at how far simply showing up will take you," he said. College professors will listen to you and take you more seriously. You will make important connections by choosing to be present rather than skipping activities and events. Thigpen said several of his opportunities occurred because he showed up. Then beyond showing up, he advised to show up "mentally prepared with a growth mindset," in which you are prepared to learn and grow.
Do the Right Thing
Fear can hinder decision-making. Thigpen gave examples of FOMO (fear of missing out), FOBO (fear of a better option), and analysis paralysis. He discussed dealing with the discomfort of being the decision-maker and the necessity to "do the right thing even when it is difficult."
Embrace the Struggle
Life can be a struggle. The struggle is part of what molds individuals into the people they are going to be. He encouraged students never to be too proud to admit they are struggling. He spoke about the experience when his best friend from high school and JA coach Scott Branning died of cancer around the same time as a difficult period of work with lung cancer patients during his hematology/oncology fellowship. "Embrace your struggles. Use them to become the person God intended you to be," he said.
Play the Next Point
Keeping focused on what is coming up next is another key attitude. Thigpen described how a tennis player accepts things as they are, yet prepares for the next moment.
"No matter what successes or failures come your way, playing the next point will be essential to your navigation of life. Many people have been crushed by their failures, and also, interestingly, by their successes. Enjoy your successes, but don't let them be the end all be all. Learn from your failures, but don't let them be the end all be all either. Play the next point, run the next play, make the next decision, truly live the next day," he said.
Value Your Time
With references to Benjamin Franklin's impressive use of the time he had available and his accomplishments, Thigpen challenged students to invest their time wisely.
"While there are mental, physical, and spiritual tests of high school, there is a larger test that awaits you that will be sure to challenge you in all areas, the test of time. The difficulty of the test does not hinge on how well you know it but on how well you use it. Time is as harmful as each individual allows it or as beneficial as each individual makes it," he said.