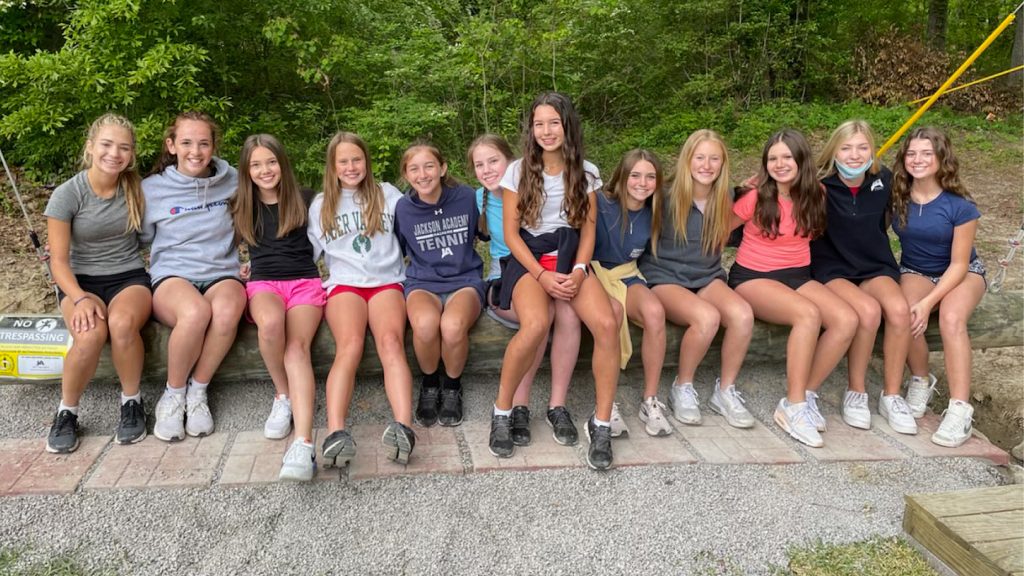 "Be encouraging, trustworthy, safe, and have tons of fun," was the advice of eight-grader Ellen Morgan. Her entire class had just experienced JA's new Ropes Facility Course at Ashleigh Park. The course is within the school's Raider Park complex.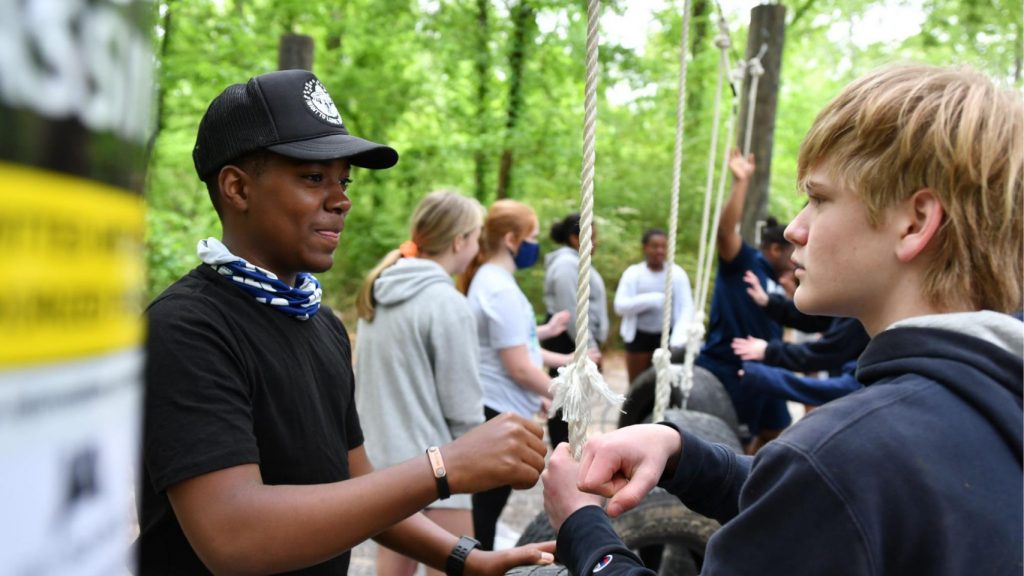 Following an orientation Friday morning, eighth-grade students were divided into groups. Forty-five participated in initiative games while three groups of 15 students each began the team-building course. Students rotated through both initiative games and team-building before their lunch break.
Middle School literature teacher Castlen Rogers, who helped during the day, said students' reactions to the ropes challenges varied. Still, she saw a willingness to experiment and try things in unique ways. Rogers and student participants remarked how teamwork, strategic thinking, leadership skills, willingness to experiment, helping others, regrouping after failure, and developing resilience all shone through in the experience.
"I think what impressed me most was how enthusiastic the students were about helping one another and trying new things," said Rogers. "Of the six groups that rotated through the elements at our station, no two groups approached the challenges the same, but all of the groups met with success. When something didn't work, the students would come up with another plan and try again. That kind of grit and collaboration will serve them well in many areas."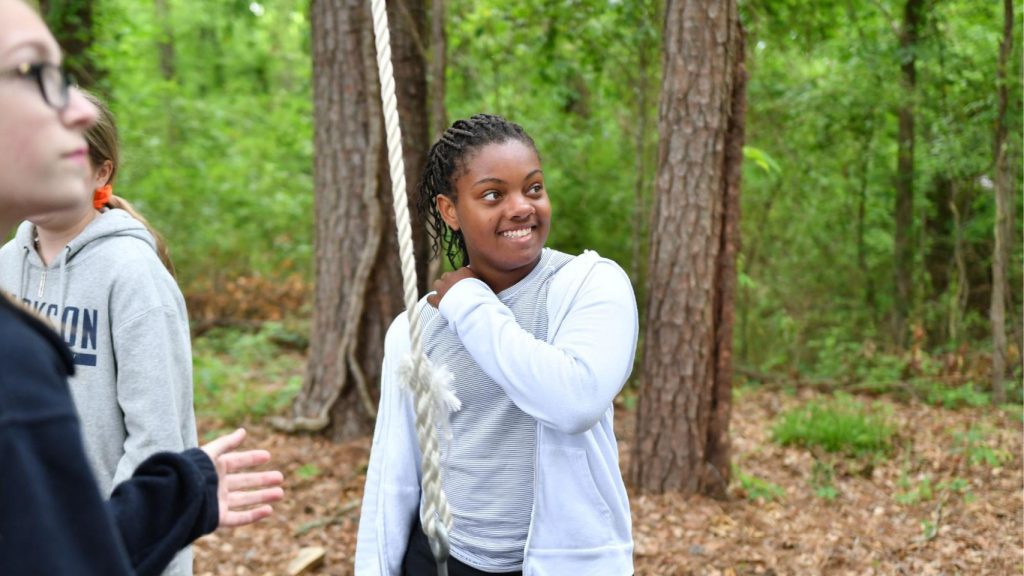 Sydney Horton liked the ropes element called the spider web the best. In the spider web, team members lift others through openings in a rope configured like a web. Once one space has been passed through, it is no longer available as a passage. The team has to work together to get everyone through the web. Sydney said for those planning to take part in an upcoming ropes course: "Have an open mind, try it, and don't be afraid to fall." She also emphasized the importance of being a team player.
After students experienced two elements, they debriefed to see what was learned from the experience. Many students mentioned the importance of teamwork, not giving up, being willing to try different approaches, and safety. SOAR Outdoor Director WT Taylor stressed the importance of these ideas to the teachers and volunteers in training for the day.
The ropes challenges were entirely new for some students. In contrast, other students could draw from similar programs they had experienced at summer camps, such as Ellen Morgan at Treetops in Georgia.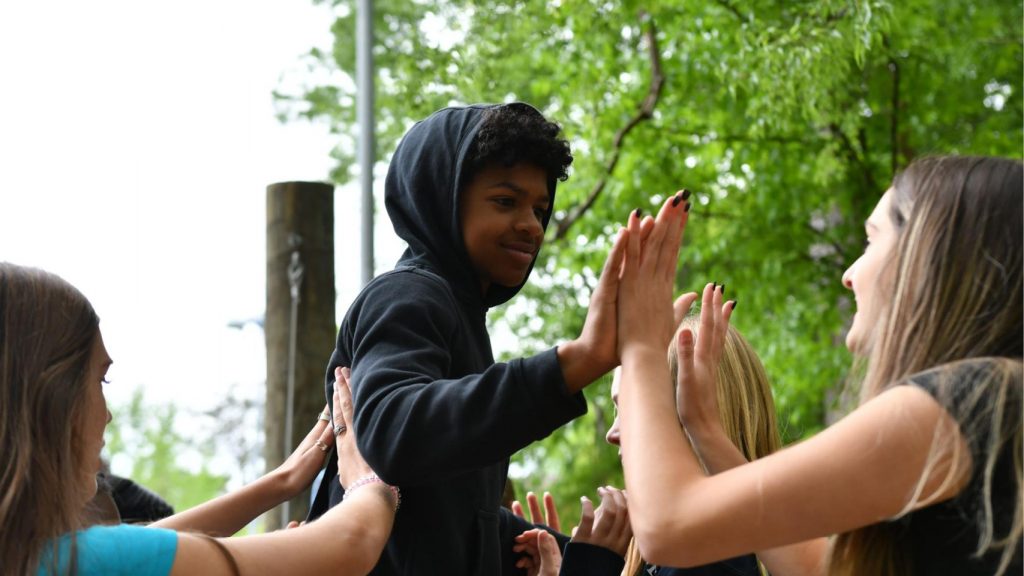 "My favorite thing about the low ropes course experience was the team building activities," said Ellen Morgan. "I also loved the queen's finger challenge because our group was the only group that could accomplish it. Another activity that I enjoyed was the tire swings because it was challenging, but it was so much fun at the same time!"
"I was able to help my classmates throughout the activities in many ways," said Ellen. "One way was to encourage them and give them the confidence to go through the activities. Another way that I could help them was by being a trustworthy spotter and not letting them fall."
Caroline Flechas, who had done a high ropes course at Camp DeSoto, said that working together with her team was one of her favorite aspects of the day. "There was a wooden bridge that we had to problem solve together to help the rest of our team get across," she explained. "I was able to help my classmates by being a base for some low ropes course activities and working as a team to complete obstacles."
Caroline would definitely encourage students to give the new Ropes Facility Course at Ashleigh Park at try. "I would also tell people who want to experience the ropes course that they should definitely go and bring some friends! It is so much fun, especially when you get to spend the time hanging out!"