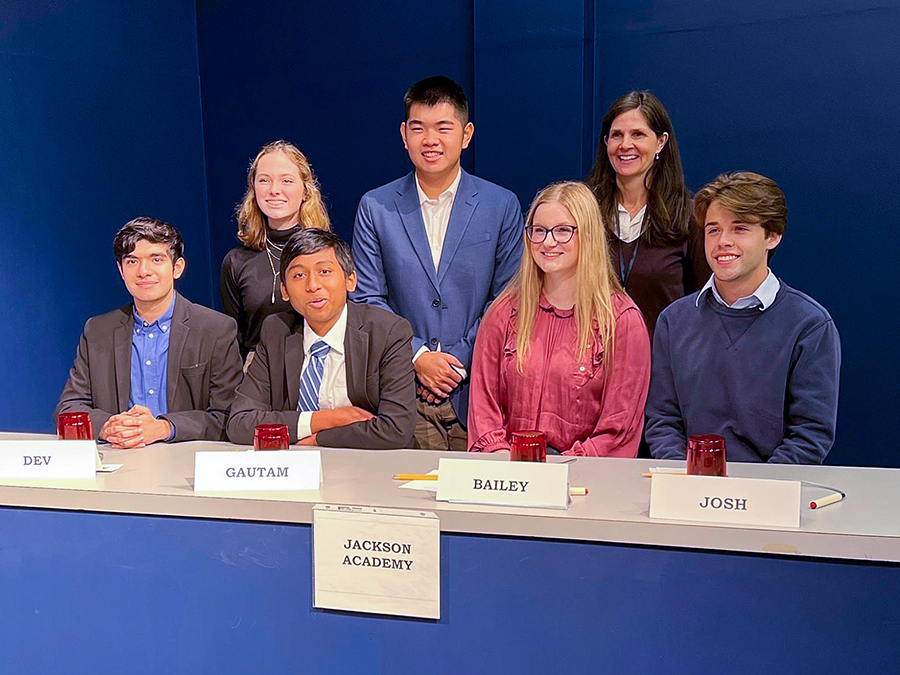 Quiz Bowl is back at JA! On November 15, the team had a great opening competition at Mississippi College, defeating their opponent 305-175.
"I am thrilled that Quiz Bowl has returned to JA after a pause during the pandemic," said Head of Upper School Brandi Richardson. "Participating in Quiz Bowl is a fun way to showcase students' expansive knowledge. Though Quiz Bowl certainly has strategy involved, it is basically a really fast version of trivia! Students are able to compete in various tournaments and occasionally the tournaments offer scholarships for individual high scorers. I am eager to watch our Quiz Bowl program develop and continue to compete in competitions."
Twenty schools will compete in the Mississippi College Academic Competition between October and January. JA's team competed against Laurel Christian on November 15, and the next match will be with Madison Central on January 10.
"I hope that students gain confidence in their knowledge of a wide range of topics as they proudly represent Jackson Academy at this state-wide event," said Theresa Berman, Upper School social studies teacher. "It has been a joy to see the camaraderie of our team and their enthusiasm for engaging in friendly competition with teens from other schools."
Eleventh and twelfth-grade students with at least an 85 average were invited to attend practice rounds from which four teammates and alternates were selected based on participation and performance.
If JA wins its next match against Madison Central on January 10, the team will advance to the semi-finals on January 19. JA's team will also participate in the 2023 Murrah Mustang Competition on January 28 and the University of Mississippi Academic Quiz Tournament on March 4, 2023.