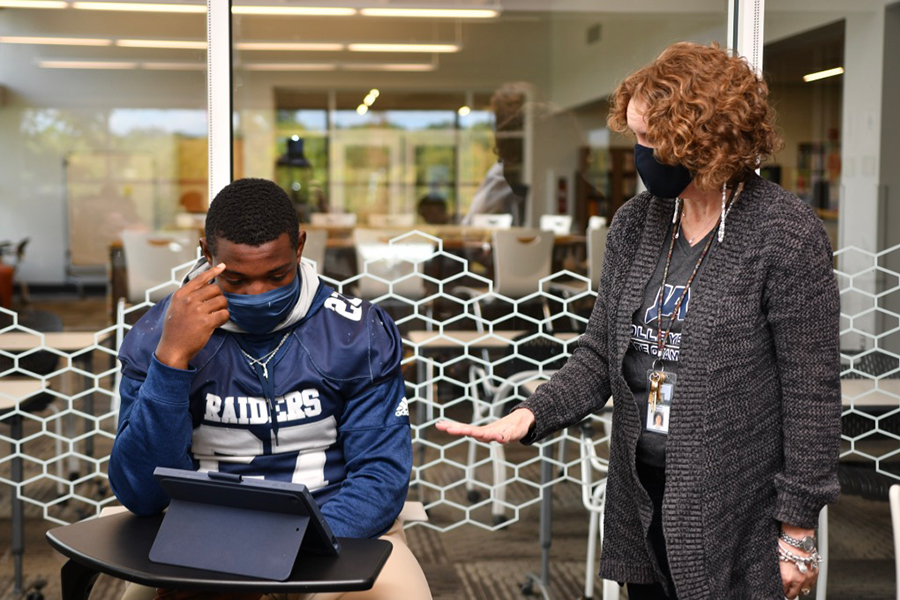 Bronwyn Burford's financial management students are out on a special assignment to research, record, and produce a podcast! Students will use the application Anchor to record and edit their findings on topics related to personal financial management. They'll also be working together in groups of two or three, practicing collaboration, and interviewing friends and faculty for their episodes, a great way to hone communication skills. This project is so full of learning opportunities it's categorized as an educational superfruit!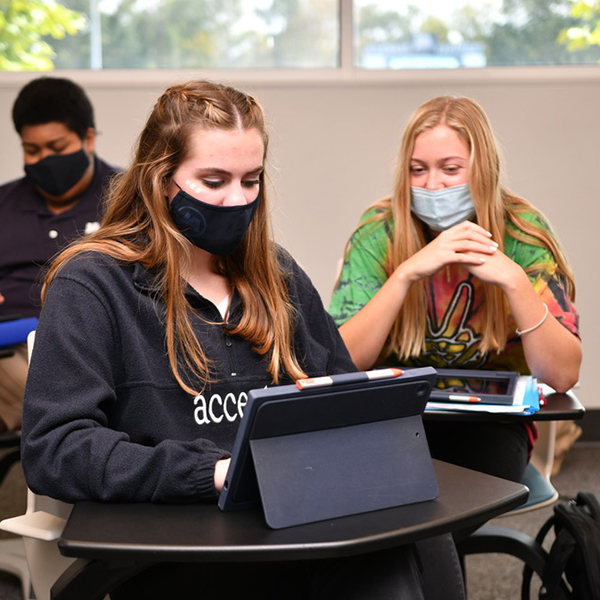 Creative innovation often emerges from times of quietness and solitude. It was during quarantine that Financial Management teacher Bronwyn Burford noticed the educational potential of podcasts. This fall, she returned to campus with a plan to give her students a challenging and fun learning experience.
First, her students needed to research by listening to podcasts and evaluating what they liked and did not like about different formats and subjects. Next, they took a survey and discussed the results in class. Questions like "What made you feel engaged in this podcast?" and "What type of sounds did they use in this podcast?" helped students decide how they wanted their own podcast to work.
For their project, Demi Williamson and Donovan Veasley chose the topic of identity theft. "I chose the topic because I found it interesting and I'd like to hear stories from people who have experienced it." For Donovan, the relevance of the topic made it especially intriguing. "I'd like to learn more about different ways that identity theft happens."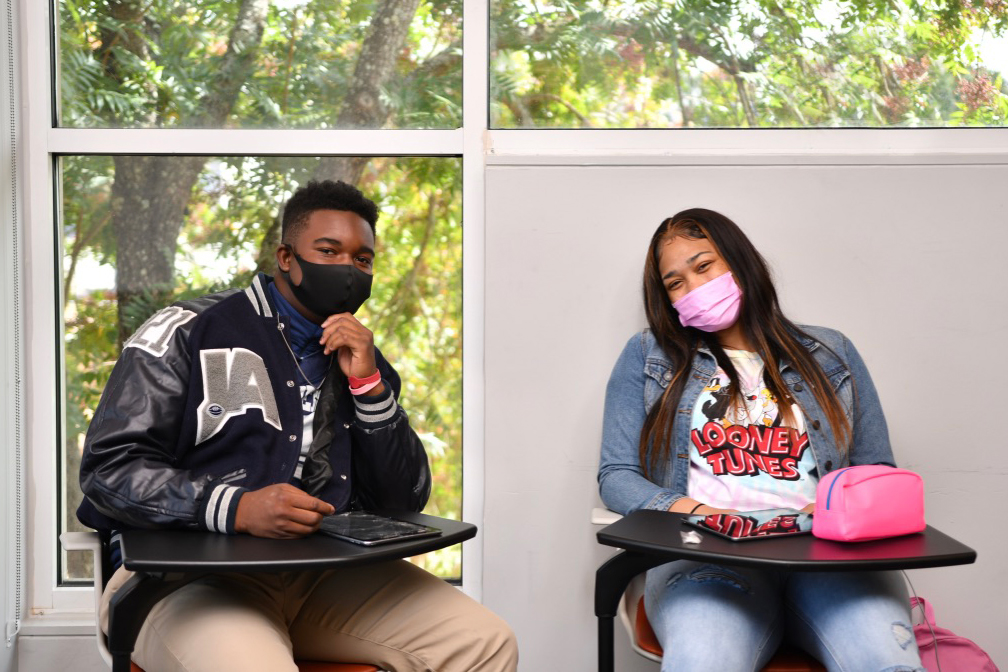 In the next phase of this year-long project, it will be time to hit the books! The facts presented in their shows must be correct, so students will research their chosen topics and compile sources. They'll also formulate a set of focus questions to answer within their episode, ensuring that their audience learns a clearly defined lesson. And then the fun will really begin!
Students will interview their friends, but they will also be required to interview a JA faculty or staff member and record their portion of the show using the Anchor app. The application allows users to create podcasts from ground zero – branding, recording, distributing, and even monetizing can be done in the app!
When asked about their first impressions of the application, Locke Danley and Julianna Copeland agreed that it seemed like the perfect fit for their podcasting plans. "From what I've seen, it looks good," said Locke. "It looks simple, the layout is easy to access, it's all there, you don't have to go anywhere to find anything." Julianna noted several of the app's most convenient aspects, including recording virtually with friends and adding songs from Spotify to the podcast. "I think it's going to be really cool to use," Julianna said. "It's really well laid out so that you can find and add what you want to your podcast."
Innovation is in our DNA, as is rigorous, hands-on learning. Difficulties that arise throughout this long-term project will sharpen students' critical thinking and creative problem-solving abilities – and strengthen their grit! When the students finish their podcast assignment, they will have created something to be proud of and developed an in-depth understanding of their chosen topic. And then, they'll be able to share what they learned with the world through Anchor!