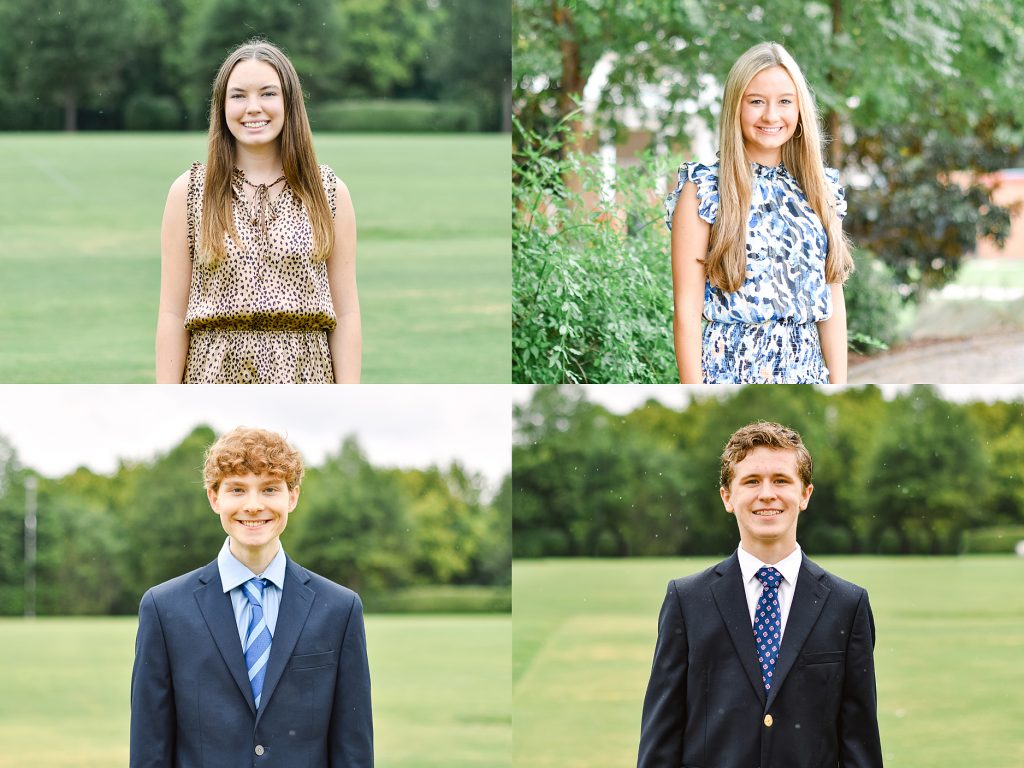 Four Jackson Academy seniors earned recognition from the National Merit Scholarship Corporation last week. Members of the Class of 2022 Abby Arnett, Gibson Cheney, Regan Felder, and Sandon Guild placed among the top scorers in the nation on the 2020 Preliminary SAT, also referred to as the National Merit Scholarship Qualifying Test. Out of approximately 1.5 million students to compete in the program, only 50,000 receive recognition.
ABBY ARNETT
National Merit Semifinalist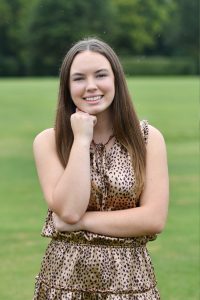 Abby Arnett arrived at JA in the eighth grade and quickly established herself as an academically outstanding student. With sixteen AP and Honors courses on her academic resume, plus an impressive list of academic honors and awards that includes Cum Laude and National Honor Society, Abby still dedicates time to engage in community. She has volunteered with the Barbara Bush Foundation's Teen Trendsetters Literacy Program, Fondren Church's Foster Family Christmas Party, Young Life Club, and several food drives and camps for kids.
What is one of your favorite memories at JA? Some of my favorite memories at JA would have to include my experiences in 4th period AP Chemistry and 3rd period AP English Language junior year and my experiences at the football games. My junior year chemistry and English classes were filled with all of my favorite people, so they were always so much fun no matter what we were working on. Some of my best memories have also been made at the football games, because spending Friday nights cheering for the Raiders and dancing with the band playing is one of my favorite things to do. JA beating Prep was the best game ever.
What do you see yourself pursuing as a career path? I see myself pursuing a career in the medical field, hopefully as a trauma or orthopedic surgeon. But, any career in the medical field where I can work hands-on and help people will be a good career for me. It would also be really cool to be a traveling doctor across the world to help less fortunate communities in other countries.
Why do you feel drawn to that career path? I feel drawn to a career in the medical field because my mom has been ill for the past few years, and I have seen the amazing impact good doctors and nurses have had on her journey. I would love to be able to utilize my gift of intelligence and my passion for science and people to help others that are in need.
How have teachers at JA influenced your interest in that career path? Teachers at JA have really pushed me find what I am passionate about, helped me learn how to utilize my skills, and challenged me in the classroom. They have also influenced my interest in a medical career path by helping me find what I like and do not like to learn and work on, and it is very important that you find a career doing something you enjoy.
What are some examples of ways your teachers have positively influenced you? My teachers have positively influenced me by supporting me and believing in me. They have also challenged me and pushed me to grow mentally and academically. Specifically, Coach West has always been a positive influence on my life in addition to just being a great teacher.
GIBSON CHENEY
National Merit Semifinalist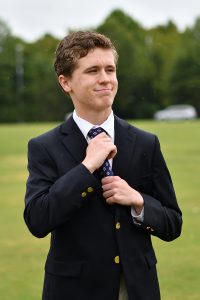 Gibson Cheney's photo appeared in JA's collection of portraits celebrating students who achieved a 29 or above on the ACT in his sophomore year of high school. The Eagle Scout's academic career has earned him membership in seven national honor societies. He participated in six honors courses and seven AP courses while maintaining an active role throughout campus; he starred in productions by JA Theatre, served on the JA Honor Council, performed with Encore, and competed with the cross country, track, and Ultimate Frisbee® teams.
What are you involved with on campus? On campus, I run cross country, do show choir, am co-captain of the Ultimate Frisbee® team, and am president of JA's chapter of the International Thespian Society.
What are you involved with off campus? Off campus, I am active in Boy Scouts, youth group at Highlands Presbyterian Church, and am employed at Bravo Italian Restaurant.
How has your experience at JA shaped who you are today? My experience at JA has shaped me because specific teachers and classes have influenced and encouraged my interests and especially helped create a constant thirst for knowledge.
What do you intend to study in college and, if applicable, after? I intend to go to the University of Alabama and study Metallurgical Engineering.
What do you see yourself pursuing as a career path, and why? I want to pursue a career in materials science. I firmly believe that materials science is where the future of innovation and technology lies as the world around us has an increased need for sustainable and applicable materials, especially in construction, transportation, and energy.
REGAN FELDER
National Merit Commendation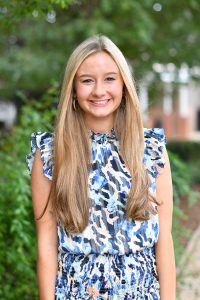 Regan Felder has attended JA since the first grade and participated in many service and leadership opportunities. She has led the girls' varsity soccer team as captain, the Accents as an officer, and the FCA leadership team. She is also the student body historian and a JA Student Ambassador. Not only is she actively engaged in the JA community, but she also took on a challenging array of AP and honors courses throughout high school. She is a member of the Cum Laude Honor Society and six other national honor societies. Regan is an active volunteer through her church, First Baptist Madison, and area sports programs.
How has your experience at JA shaped who you are today? JA has provided me with an amazing community full of teachers, administrators, and classmates who have come alongside of me to help me grow and succeed. The JA teachers and faculty have helped me not only with my education, but also with how to be a better person outside the classroom.
What is one of your favorite memories at JA? My all time favorite memory at JA is definitely last year's football playoff game against Jackson Prep, which we won allowing us to play in the championship. The entire school was so excited, and it was definitely a moment where everyone came together to support the Raiders.
What are some examples of ways your teachers have positively influenced you? There have been so many teachers throughout my 12 years at JA who have made me realize what hard work truly is, and how great it feels to succeed after working so hard to accomplish something. They have also taught me how to continue working when success doesn't come easily, while reminding me that one failure doesn't define me. Coach West, Mrs. McKay, Ms. Bannerman, and Mrs. Fowler, just to name a few, have always been super special to me. They have not only invested in me educationally but also in me personally.
What are you most proud of from your previous accomplishments? I was very honored to receive the Bausch + Lomb Honorary Science Award this past year. Science has always been something I have been interested in, so receiving this award was an awesome accomplishment.
What are you most excited about in your senior year of high school? I am extremely excited about growing closer with my senior class through all of our "lasts" together. A few amazing opportunities JA gives their seniors include Alpha and Omega, Senior Week, and Senior Treat Days.
SANDON GUILD
National Merit Semifinalist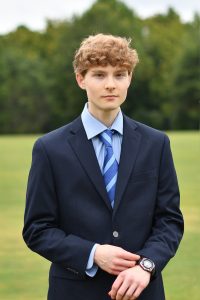 Sandon Guild studied intensely throughout high school. His hard work paid off in acceptances to nine National Honor societies, including the prestigious Cum Laude Honor Society. But, the app developer and amateur baker did much more than study. He achieved Eagle Scout status, worked in the JA Tech Center, served on the Student Council, was involved in multiple clubs, and served on the Raider Network Camera crew.
What is one of your favorite memories at JA? One of my favorite memories at JA is jollyball in elementary PE. In this game we were divided up into four teams, and each team sat in a line facing inwards to form a square. Members from each team would then be called on and crab-walk to the center at which point they would attempt to kick a beach ball across one of the other teams' lines.
How has your experience at JA shaped who you are today? JA has helped me become a more well-rounded student, particularly by nurturing my skills in subjects that I might not care for as much, and provided an environment in which teachers hold a high standard for their students by encouraging them to put forth their best effort, whether in success or failure, and continually improve.
What do you see yourself pursuing as a career path? Right now, I see myself pursuing radiology as a career path.
Why do you feel drawn to that career path? I feel drawn to radiology after having shadowed a radiologist several times over the summer. I could quite easily see myself enjoying that specific field of study, mainly for its use of technology.
What are you most excited about in your senior year of high school? I am most excited about parking on campus for my senior year. It's a huge step up from Raider Park! I am also looking forward to Senior Skip Day. I can't wait for some quality one-on-one time with all of my teachers!