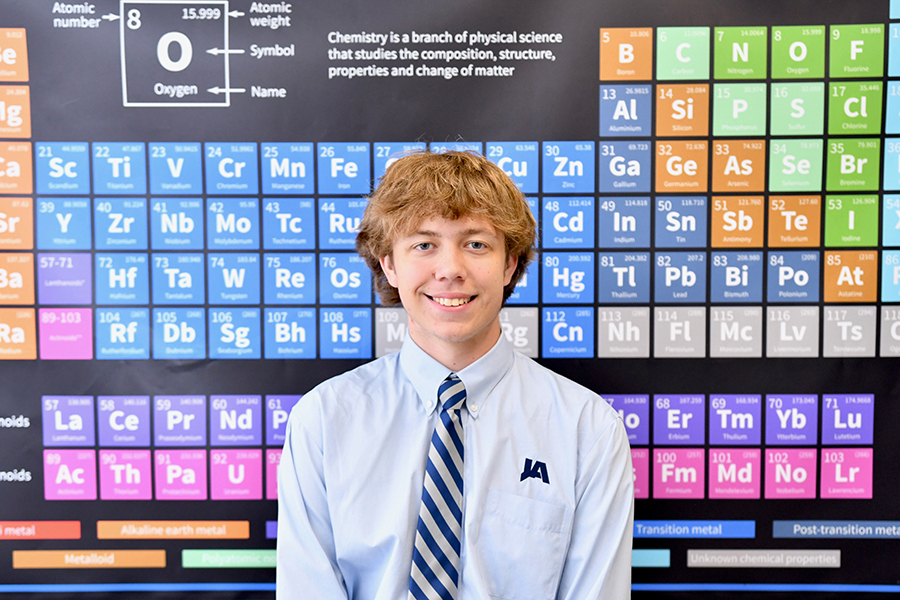 Jackson Academy senior and Jernberg scholar Miles Johnson, son of Chip and Cindy Johnson of Madison, has been recognized as a semifinalist in the 2020 National Merit® Scholarship Program. Johnson earned recognition by the national organization through standardized testing and an extensive application process involving academic and extracurricular activities, leadership abilities, and honors and awards.
Johnson is an active member of JA's Quizbowl team and competes in other academic contests. Miles has run cross country and served on the Raider Network team, which broadcasts JA's athletic events, for four years. He currently participates in JA's Upper School show choir, Encore, and is captain of the Ultimate Club, a sport that uses a flying disc, or FrisbeeTM. With 10 years of study in piano and a black belt in kung fu already under his belt, the next accomplishment on his agenda is achieving Eagle Scout rank by the end of his senior year. Together with his parents, Miles is an active member of Highlands Presbyterian Church in Ridgeland. When Miles contemplates his time at JA, he is quick to mention the close friends and dear teachers who have encouraged him in his pursuit of a well-rounded education.
Johnson was among a group of more than 1.5 million juniors across the nation who took the Preliminary SAT/National Merit Scholarship Qualifying Test during the fall of 2018. After that initial screening, he partnered with Jackson Academy to complete detailed scholarship applications with information about his academics, activities at the school and community involvement, leadership abilities, employment, and honors and awards received.
Each year, the National Merit Scholarship Corporation recognizes approximately 16,000 semifinalists. Those students qualify to continue in the competition for some 7,600 National Merit Scholarships to be announced next spring.