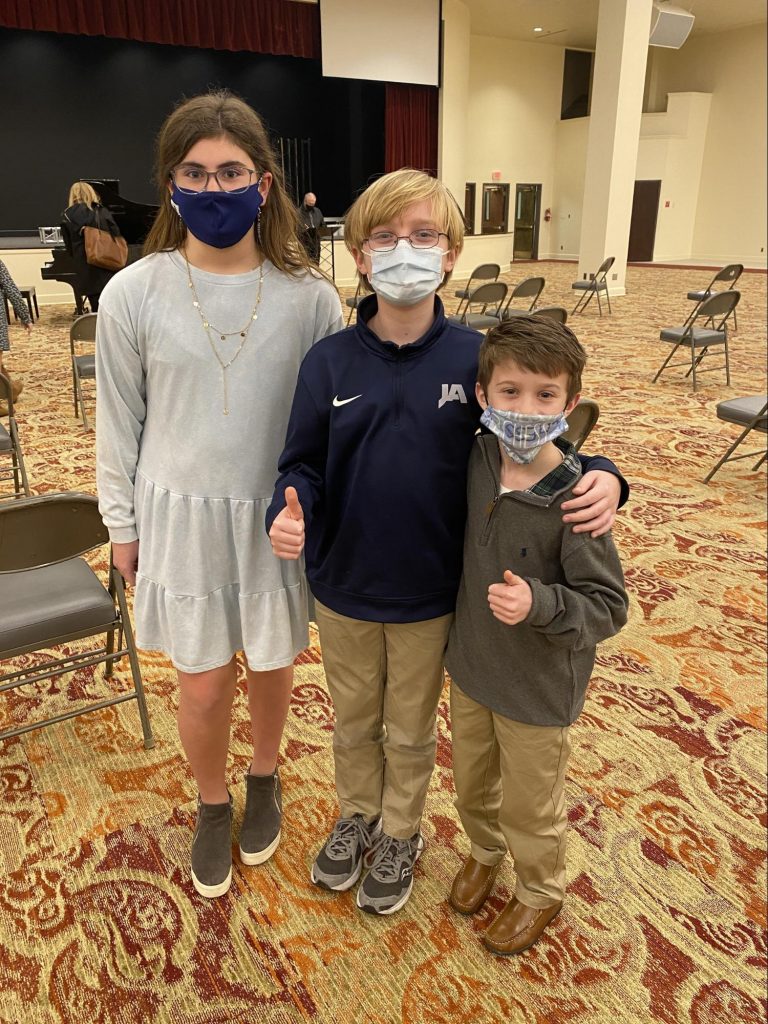 The Jackson Academy campus is regularly abuzz with after-school activities. One of those activities recently led to three JA students earning high marks performing musical selections at a keyboard festival. Fourth-graders Lillian Griner, Laurence Asher, and Chess Channell achieved superior scores at the Mississippi Baptist Keyboard Festival on January 28. 
Each year in January, hundreds of piano music students from around Mississippi gather for the Mississippi Baptist Keyboard Festival at First Baptist Church Jackson. The worship ministries of the Mississippi Baptist Convention Board administer the event in consultation with piano professionals around the state. 
Students are divided into divisions based on the number of years of their musical study. They perform their music selection by memory in front of a panel of judges.
Lillian, Laurence, and Chess performed with approximately 30 other students in their division. Laurence played "Give Thanks." Chess played "Come, Thou Almighty King," and Lillian performed "When I Survey the Wondrous Cross."
Kim Fowler is the piano teacher for these students and has been providing piano and voice lessons at the Jackson Academy Performing Arts Center after school since 2011.
"The festival is a great way for students to build their confidence while challenging them to set goals," Fowler said. "It helps lead young people to deeper discipleship through the playing of music as well as challenges them to share their faith through music."
In addition to accessing lessons at the PAC, JA students in After School, the service for students who stay at JA when classes conclude, can elect other extracurricular programs. Examples include tennis, art, basketball, dance, technology, pre-piano, piano, violin, chess, sewing, Taekwondo, soccer, and Bricks 4 Kidz engineering with Legos. Hours and further details of JA's After School program can be found online by clicking here.