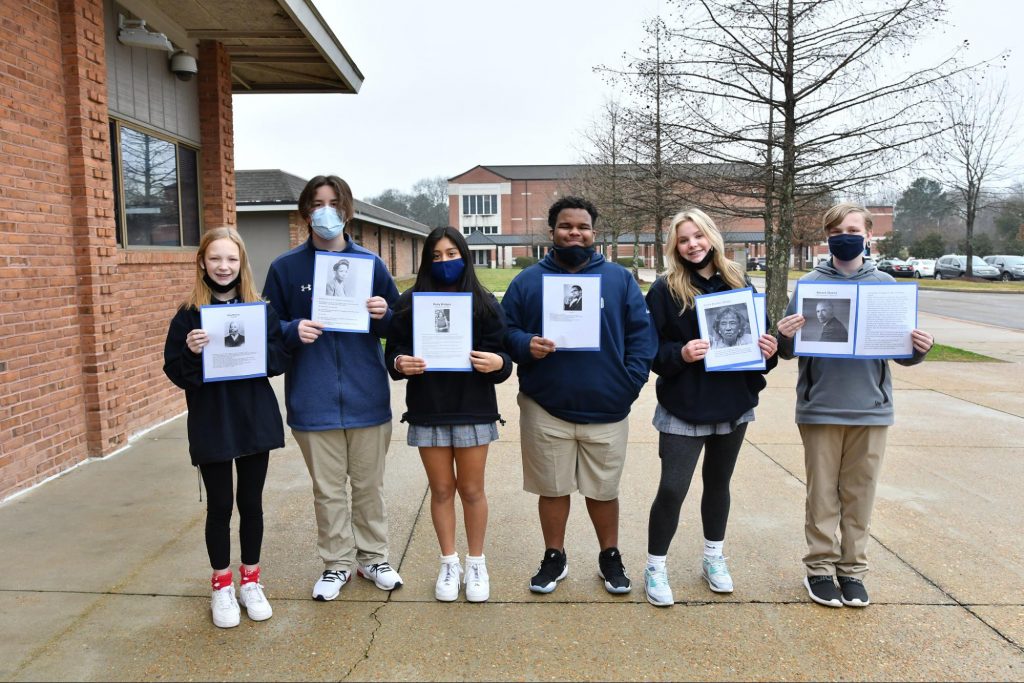 Eighth grade literature students dove into Black History Month studies last Friday, digging into the Emancipation Proclamation and researching Jim Crow laws. Studies began with an overview of black history starting in 1619 when the first slave ship arrived in the colonies. After looking at a historical overview, the students read several non-fiction documents. They delved into excerpts from autobiographies of Harriet Tubman, Abraham Lincoln, and Maya Angelou; historical documents like the Emancipation Proclamation; and an account of Brown v. Board of Education, the trial that ended legal segregation in public schools. 
Individually, students selected a black history figure to research, document, and present to their classmates. The list of men and women included people who lived in slavery as well as modern men and women. Some of the research is currently displayed in the seventh and eighth grade building, with plans underway to share more research projects on the hall and in the PAC so that students have the opportunity to learn and be inspired by the black leaders, artists, and advocates their peers are studying.
The students will conclude Black History Month classroom studies by looking at the Harlem Renaissance and modern music. They'll compare Langston Hughes's poetry with Tupac Shakur's, which have strikingly similar themes but different styles and references.
"Studying black history is one part of giving voice to a vast number of people who began as voiceless, and who endured well over 200 years of slavery to be followed by oppression, prejudice, and the civil rights movement," said Literature Teacher Castlen King Rogers. "It traces a journey of liberation and the pursuit of equality that is important for all of our youth to learn about and incorporate into their understanding of American history and culture."  
This article was written in collaboration with eighth grade Literature Teacher, Castlen King Rogers.