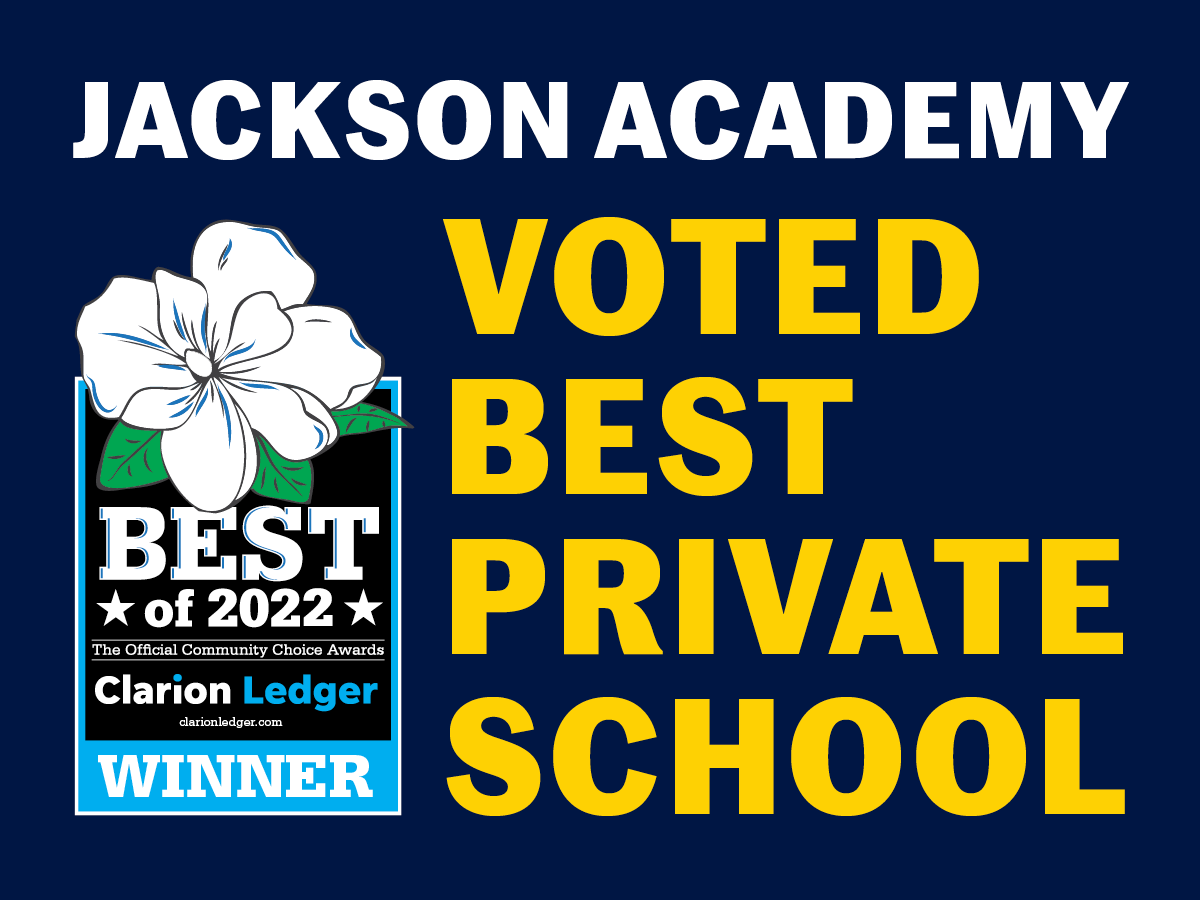 On Sunday, Jackson Academy was named Best Private School 2022 and Best in four additional categories in the Clarion Ledger's annual poll to discover Mississippians' most admired businesses, organizations, people, and events. Bebe Sumner and Richard West were selected as finalists in the Best Teacher category.
Voters selected JA in the following categories:
Best Private School
Best Place to Work
Best Live Performance Venue – JA's Performing Arts Center
Best Festival/Event – JA Carnival
Best TV/Radio Personality – Bryan Eubank, Voice of the Raiders 
Best Private School
Voters have selected JA as the Best Private School three out of the past four years. Head of School Palmer Kennedy said he believes the school's mission plays a large role in this recognition. "All facets of a JA experience – academics, athletics, the arts, or a variety of other co-curricular programs – are student-centered and mission-driven," Kennedy said. "Our mission and culture are advanced by a superior and committed faculty and staff, parents, Board of Trustees, and of course, students. We remain deeply grateful for the efforts of all individuals who work to create an exceptional experience for students."
Best Place to Work
JA has been named Best Place to work for four out of the past five years. The 38-acre campus has been described as one of the finest school environments among the Midsouth Association of Independent Schools. While location and facilities are important, the heart of a school is made up of qualified teachers who know students individually and care about them personally. Southern Association of Independent School surveys say our faculty do just that. JA's 200 professional faculty and staff serve more than 1,200 students in K3 through twelfth grade.
Best Venue, Event, and Announcer
JA also has repeated the awards Best Live Performance Venue for the JA PAC, Best Festival/Event for the JA Carnival, and Best TV/Radio Personality for Voice of the Raiders, Bryan Eubank. In the JA PAC, students gain an experience that mirrors a professional company, said Director of Theatre Arts Kerri Sanders. The PAC also welcomes many outside events by community organizations. The JA Carnival is a tradition passed down from family to family. This community event offers carnival rides, an amazing costume contest, multiple food options, a pumpkin decorating contest, and much more. Chosen as Best TV/Radio Personality, Bryan Eubank has more than 2,000 JA games called and is a recognized voice at JA and beyond. He spends hours in preparation to bring entertaining, professional sports coverage to Raider fans.
Best Teacher Finalists
Kindergarten Teacher Bebe Sumner and Upper School Science Teacher Richard West were selected as finalists in the Best Teacher category. Sumner, who is in year 11 as a JA teacher, says the high point of the day is circle time, where she and her students have a devotional and prayer.  West has been teaching at JA for six years. A highlight of teaching for him is when he sees students push hard to understand a difficult concept and then finally get it. That moment when he sees that they understand is rewarding.
Jackson Academy's heartfelt thanks go out to our supporters in the JA family and our friends in the community for voting on behalf of the school!