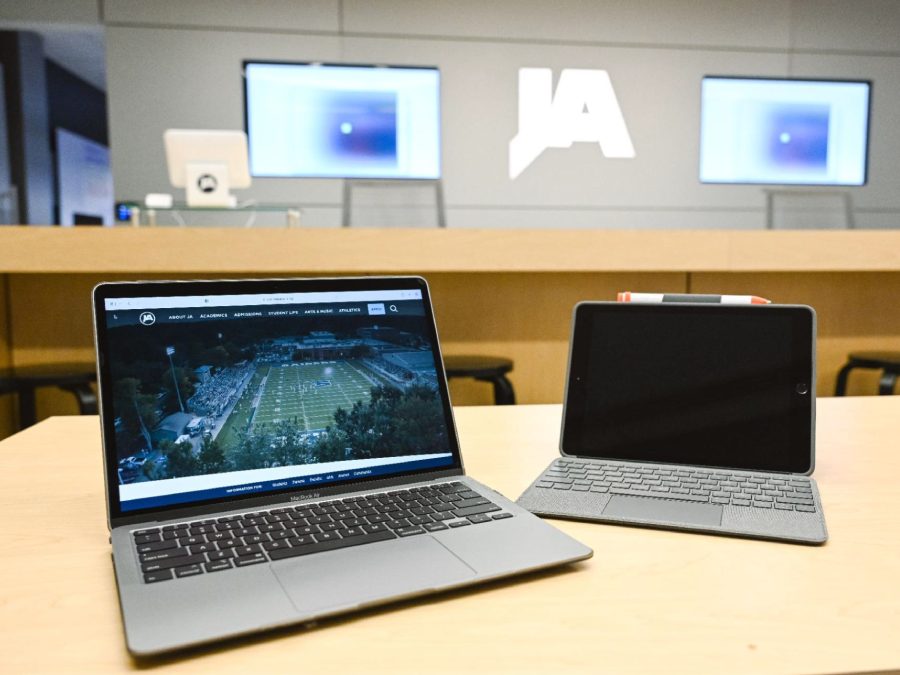 Apple, Inc. notified Jackson Academy this fall that the school had earned the Apple Distinguished School designation for the fifth time. The technology company reserves this designation for programs that meet innovation, leadership, and educational excellence criteria and demonstrate a clear vision of exemplary learning environments. 
JA is part of a small group of schools and colleges worldwide recognized as Apple Distinguished Schools. Apple, Inc. notes on its website that Apple Distinguished Schools are among the most innovative schools in the world.
An Apple Distinguished School must provide tangible evidence of academic accomplishment and offer an innovative and compelling learning environment that engages students. By incorporating innovative technology, teachers have enhanced teaching and learning inside and outside the classroom in ways that inspire and equip students. 
Students use technology to express learning in ways other than the traditional paper and pencil, including creating different media content, to better express mastery of topics. Tangible examples include the following: 
Art students use iPads to create videos explaining their understanding of visual art concepts. 

Digital Citizenship students use GarageBand to create Podcasts demonstrating research skills. 

STEM labs build and race electric cars and use CAD applications to design individual solar-powered flashlights

Math students use iMovie to convert an algebra assignment into a movie.

Raider Network students learn to use the latest broadcast technology to communicate, troubleshoot, and work together as a team to adapt to the fast-paced demands of a live sports broadcast. 
JA received its first Apple Distinguished School mark in 2013 after launching the Apple one-to-one program in which every student and faculty member from kindergarten through twelfth grade receives an Apple device to enhance teaching and learning. Every two to three years, the school submits documentation as an eBook. Apple reviews the submission and determines if the school is providing exemplary use of technology for its students. After the first designation, Apple recognized JA every year the school applied –in 2015, 2017, 2019, and 2022.
"To earn this designation year after year shows that Apple sees that JA is striving every year to enhance how we incorporate technology into the best practices of teaching and learning," said Lori Snider, instructional technologist and Tech Center administrator. "Technology is not a replacement for an outstanding teacher. It is a tool to enhance learning, take down the classroom walls, and open learning opportunities. This designation shows that we have not reached a plateau in making technology a fun and exciting way to learn."
Teachers have also stepped up to ensure they are in the best position possible to guide students in using technology. Snider, who spearheaded the Apple Teacher certification process, sees teacher certification as an important step to ensure teachers are even better prepared to guide students in the appropriate use of technology. JA reached 100 percent Apple Teacher proficiency in 2017; 75 percent is required to become an Apple Distinguished School.
"Jackson Academy's fifth commendation as an Apple Distinguished School points to our faculty's dedication to excelling as a compelling learning environment that engages students," said Head of School Palmer Kennedy. "Faculty seek to cultivate an environment that enlivens students' natural curiosity, where students are excited to learn, and where they feel empowered to initiate their own learning opportunities. This effort aligns well with Jackson Academy's mission to inspire and equip students to lead lives of purpose and significance. The Apple Distinguished School designation provides tangible evidence of academic accomplishment."
A one-to-one environment, where each teacher and student is issued an Apple device, is a requirement to become an Apple Distinguished School. Other conditions involve faculty integrating digital resources into the curriculum, documentation of results, demonstration of continuous improvement, and faculty proficiency in teaching using Apple products. Apple recently added the requirement that Apple Distinguished Schools provide tours to other schools to help them learn about technology integration. As many as 30 different schools and the U.S. Department of Education toured JA. JA is among the schools that have pioneered the one-to-one approach to learning and have assisted schools in Mississippi and other states in developing similar programs.
Jackson Academy remains committed to pursuing a learning environment that blends the best of innovation, historically recognized educational principles, and well-loved traditions.