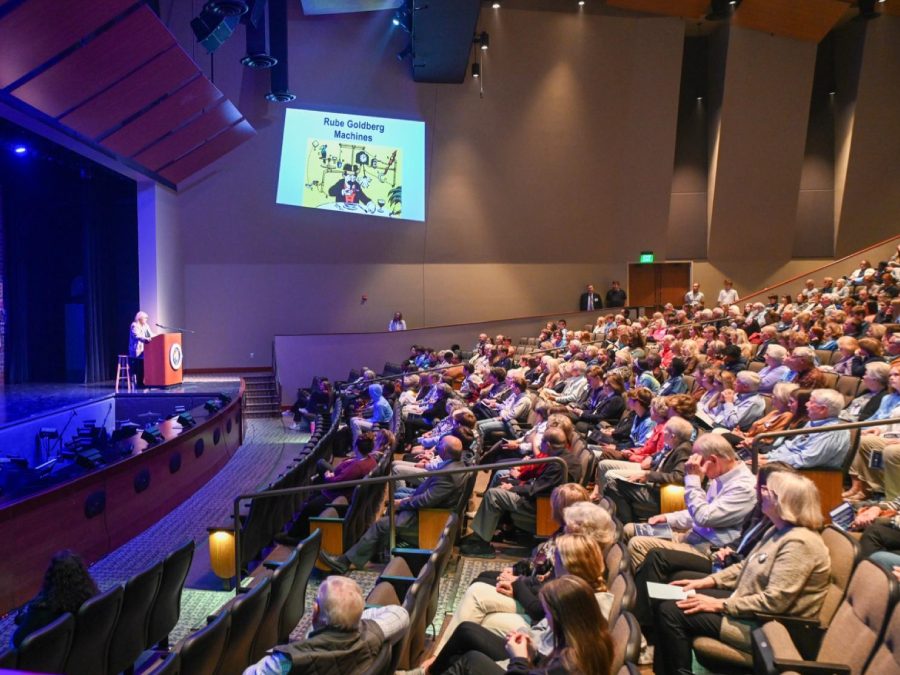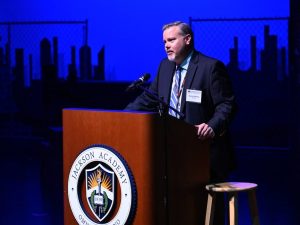 What is a day in the life of a Jackson Academy student like? Grandparents were on campus Friday to find out during Upper School Grandparents Day. They studied American history with Dr. Dennis Conklin and learned about physics in action with science faculty member Stancie Ley. 
Like most students, grandparents took time from their studies for a break and lunch. The beautiful autumn day allowed an outdoor setting for grandparents to enjoy boxed lunches with their grandchildren at the amphitheater. For entertainment, grandparents got a sneak preview of JA's production of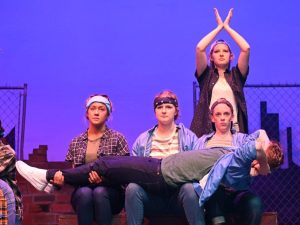 "West Side Story." They also viewed a West Side Story Graffiti and History exhibition in the PAC Gallery curated by JA faculty Leah Busby, Susan Ingram, and Emma Peck and a Student Art Exhibition by JA students.  
An afternoon panel discussion of students and grandparents addressed questions about religion, medicine, non-profit business, and education. Panel members included freshman Breck Hines, sophomore Morgan Pollack, junior Madelyn Griffith, and seniors Mary Elise Lowe and Samuel Long. Grandparent panelists were Ms. Carol Burger, past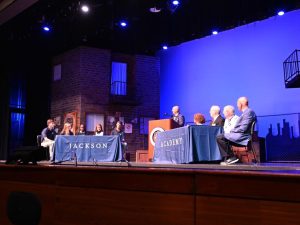 president and CEO of the United Way of the Capitol Area and grandparent of Logan Burger; Dr. Jim Futral, former executive director of the Mississippi Baptist Convention Board and grandparent of JA student Clay, Mary Lamar, and Coleman Chustz; Dr. David Haraway, past president of Northwest Mississippi Community College and grandparent of JA students Stone, Graves, and McNeil Haraway; and Dr. Tate Thigpen, retired professor of medicine who served as division director of oncology and director of hematology and oncology at UMMC and is the grandparent of Lousia Claire, Kathleen, and Willis Thigpen.
To close their day, grandparents cheered for the Raiders at a lively pep rally. When the bell rang, each grandparent had received an A+ for their hard work!