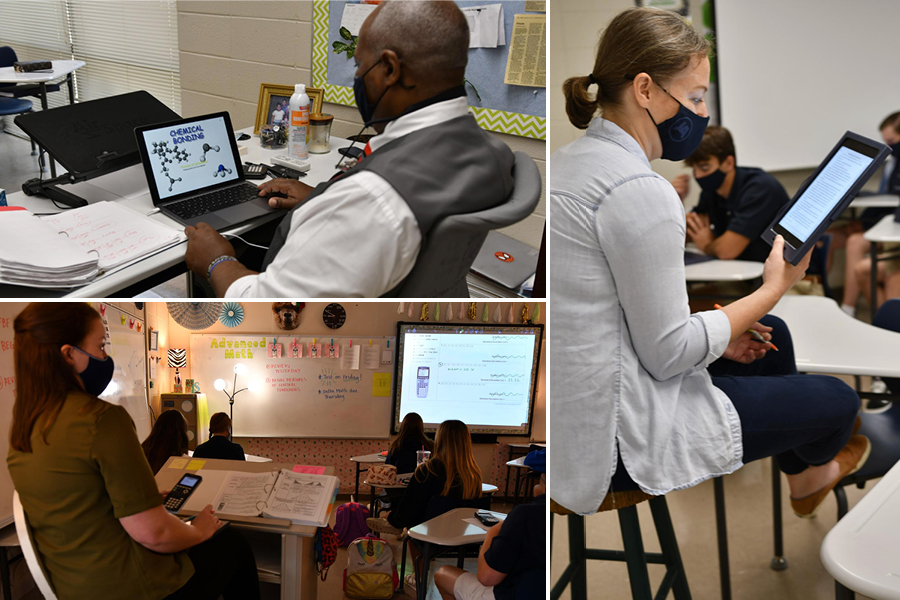 JA has entered its first full semester with distance learning as an option. When students participate in distance learning at JA, the choice may be motivated by a number of factors: an older adult, such as a grandparent, in the home; lessening the risk for a student with a preexisting health condition; or family logistics during the pandemic.
The choice to learn remotely represents a commitment to the whole term. For testing, students come to campus after school hours. Distance learners do not participate in extracurricular activities. 
Faculty members and students reflected this week on how they have adapted to distance learning.
Amanda Smithers – Math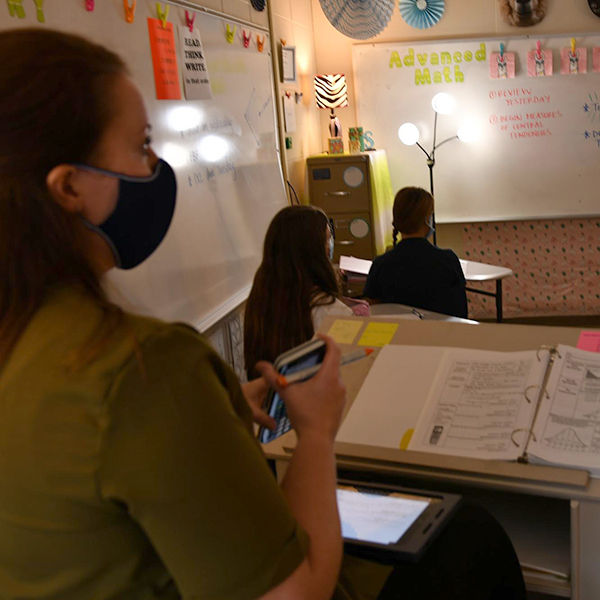 Math department faculty member Amanda Smithers says her distance learners join the class via a Google Meet and get to see the same lesson, activities, and questions as the rest of the class. Her distance learners participate in the course live, but the sessions are also recorded so students can watch them later in case of technological issues.
"They also do the same assignments, take the same quizzes (also via Google Meet), and come to campus to take their tests. I'm relying heavily on giving them access to materials through On Campus, communicating via email and Remind, and them reaching out when they need help," says Smithers.
Sara Bannerman – English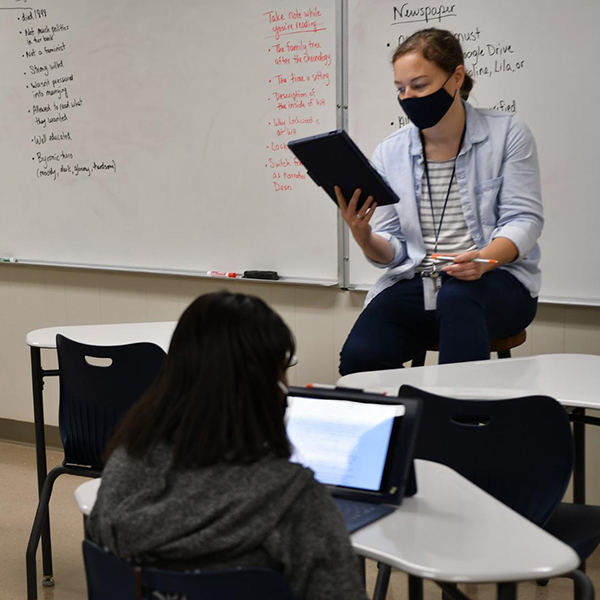 For her distance learners, English faculty member Sara Bannerman seeks to simulate the closest thing to being in school with other students.
"What seems to work best is placing my laptop at a desk in front of the whiteboard and allowing the distance learner to listen and watch along with the rest of the class. This seems to simulate the closest thing to being in school with the other students. It also gives their classmates a chance to say hello," Bannerman said. "Also, it seems to work best to put a digital copy of everything we do on OnCampus. And I mean everything. If it's there, and a distance learner can't see what I'm projecting on the screen, they can at least pull it up on their own computer. I also try to remind students of their classmates that are learning remotely by getting them to send pictures of the notes on the board. When we have group discussions, I put the laptop with a group and remind them to engage with the distance learners and request the distance learners to turn on their microphone and camera."
In Advanced Placement literature with Bannerman, student Ari Jackson makes sure she joins every live lecture because it makes her feel like she is in a classroom along with her classmates.
"While online is a little harder than what I'm used to, I haven't really had trouble staying motivated. My teachers do a wonderful job of making sure I'm included in class which means I'm able to take notes, ask questions, and ultimately be attentive. When I'm able to follow exactly what's going on, I am so much more motivated to get work done. I don't think any of them know how much they are helping me through the process of online by doing this."
Richard West – Science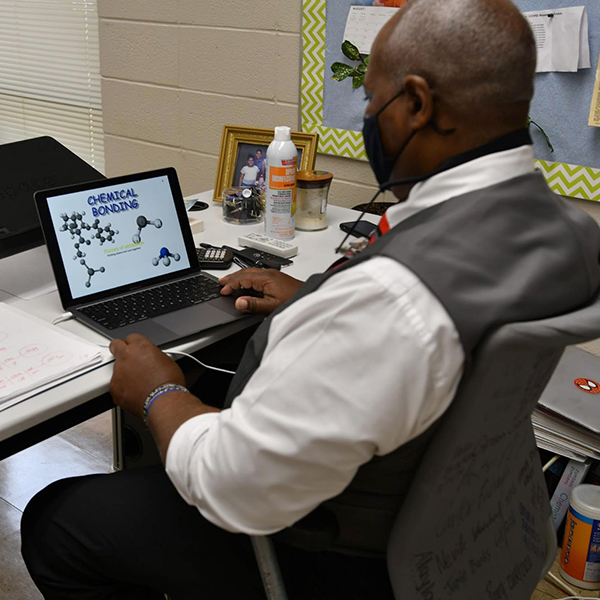 Chemistry teacher Richard West believes offering in-person and distance learning simultaneously has propelled faculty to become better teachers. "Overall, it is going to make us an even better school," West said.
One of West's primary observations is the necessity for faculty to stay in touch with their distance learners. He believes it would be easy for students to feel disconnected while learning remotely, so he makes sure he stays in contact with each student. It is also not enough to simply give them an assignment; West develops different methods to keep them involved.
"We are using live streaming in our classroom, plus they are recorded as well. We record so that if a student is out of school we send them a copy of the recording to keep them from getting behind," West said. "We make sure we are in constant contact via email with our online learners. All materials that are used in class are placed online for student access," West said.
Anne Barret Roberson, a distance learner in West's Advanced Placement chemistry, has enjoyed distance learning. "While I miss the social aspect of school, as well as sports, I am still able to keep up with my classes online. Most of my teachers, Coach West especially, have done a really good job in keeping me on task with my assignments by posting on OnCampus daily, responding to my emails, and answering questions during my Google Meets," she said. "I have been listening to live lectures, allowing me to follow along with the class as we learn, as well as ask questions live. Although there are still some challenges with distance learning, such as test-taking times and a few technological issues here and there, it has been really beneficial and has allowed my family some much-needed consistency and safety in a time of complete uncertainty."
Distance learning is not without its challenges, both teachers and students have observed. Concerns about learning in isolation, keeping students engaged, a decrease in healthy social interaction, and a loss of the engagement that occurs naturally when we experience learning in a face-to-face setting are a few mentioned. Teachers are also developing new ways to engage students online and making sure all materials are uploaded. Related to the extra work required for teachers, Smithers says: "I'm glad that all my students can feel safe learning in a way that works for them and their unique health and family situations."
Over, the experience is helping JA faculty and students stay connected in new ways, which students appreciate. "All of my teachers and counselors are just as wonderful online as they are in person," said Ari. "I truly thank them for taking the extra efforts to ensure my success, helping me feel included in the classroom, being able to communicate easily with, and honestly so much more. They are the best."