Preschool (K3-K5) Library
Enter this library and you've walked through a doorway leading to thousands of amazing new worlds.
Children's literature is brought to life in this classroom, with dramatic reading, songs, costumes, and crafts that ignite young imaginations.
Special Programs
Enriching the reading experience for students in grades K3-K5, special programs add fun and engaging twists to traditional library visits.
Books are carefully selected to direct students' attention to a specific theme each week. Qualities like honesty, kindness, empathy, and respect are taught through classic and modern children's literature. Many library themes are revealed in morning carpool as our librarian, costumed to fit the theme, greets students arriving for the day. Silly visitors have included a pirate, a spider, and the tooth fairy.
During the spring our K4 and K5 classes are transported to the Lake District of England by way of Mr. McGregor's garden. Indoors becomes outdoors as plants and trees are arranged around 6-foot tall versions of the Peter Rabbit books. Children sip from tiny teacups and eat cookies and carrots at Beatrix Potter Tea Parties.
Library time is especially magical when it's a child's birthday. The librarian can help parents purchase a book perfectly suited to the interests of their child. On their birthday, the child's book is read aloud after they sign its bookplate. Children help the librarian share the new book, have their photo added to the hall of fame, and wear a celebratory birthday badge before donating the book to the library.
Our library welcomes guest authors to read their original works to students throughout the year. Award-winning authors such as Greg Pizzoli, Eric Rohmann, and Candace Fleming, along with local newcomers like Lee Stockstill and Michelle Varner, have visited to reinforce the importance of reading and writing.
Meet the Librarian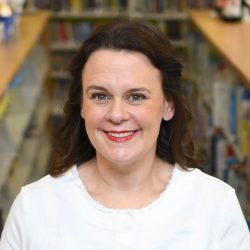 Ali Dinkins, K3-K5 Librarian
Ali Dinkins has served as the librarian for Jackson Academy's K3 and K4 students since 2017. She holds a bachelor's degree from Baylor University in theatre and early childhood education and a master's degree in theatre. Dinkins is an accomplished actress, performing professionally in the Jackson-area in addition to her work at JA and as wife and mother. Her four children are current JA students.