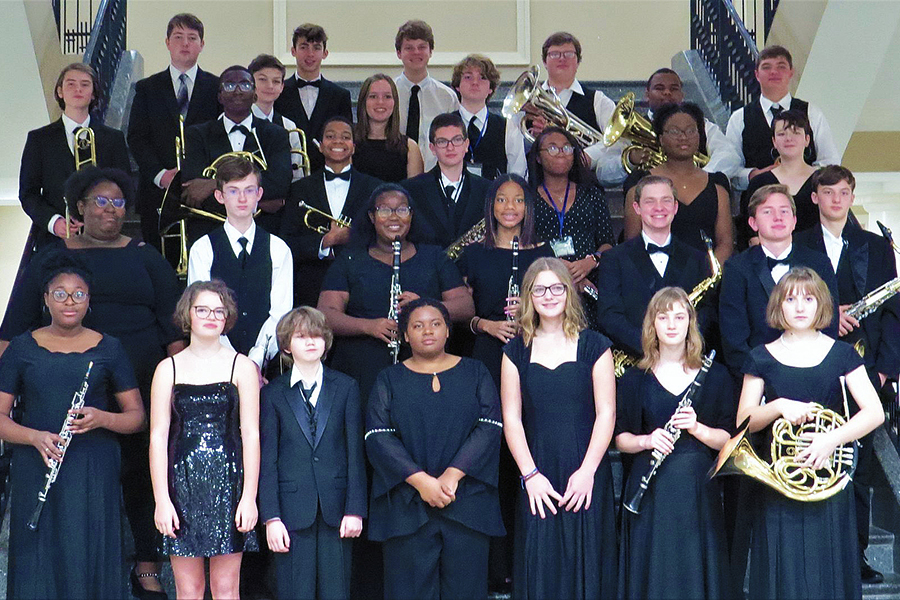 A record-breaking number of JA students represented the school at the MAIS Concert Band Clinic held at Hinds Community College Thursday through Friday of last week. The clinic offers students who are enrolled in MAIS band programs with an opportunity to compete, collaborate, and network with fellow musicians.
At the start of the clinic on Thursday, students auditioned for a panel of judges. The judges decided whether students would be placed in the red band, which typically features high school students, or in the blue band, which features middle school students. Twenty-one of the thirty-one JA students attending the clinic earned seats in the red band, including 8 eighth graders. Six JA musicians in the red band led their sections as the first chair, as did several students in the blue band.
"This is a tremendous showing for our students and school," said Head of the Upper School Steve McCartney, who was previously a band member himself. "Top Band and First Chair are coveted positions for all band folks. To have our school represented so prominently at this clinic is huge."
The clinic was a lot like a weekend at a music festival, with participants sight-reading music and quickly perfecting their part for performance. After hours of rehearsals, the whole process culminated in a beautiful display of collaboration as the bands presented a concert Saturday at 11:00 a.m.
"Clinic is a wonderful experience and I am so grateful for having the opportunity to go this year," said eighth-grade student Addie Elliott."One of my favorite parts was being able to spend time with my old friends and getting to know them better as well as making new friendships along the way."