Chapel
Throughout the semester our students and faculty come together to develop a deeper understanding of spirituality. Taught from a Christian perspective, chapel is designed to encourage and equip students to grow in their faith.
Lower School Chapel
Students in the Lower School attend chapel once each month. Teaching in the Lower School's chapel meetings interweaves ethics around a yearly theme — such as "Friendship" or "Live in Harmony" — chosen to appeal to younger children's understanding of spirituality. Students attend each chapel service. Head of the Lower School Sarah Love leads chapel, with accompaniment from the Lower School music teacher and hundreds of young singers in the audience.
Middle School Chapel
Middle School chapel meets once each month and features Biblical teaching from staff and teachers whose message's center on the year's theme. Students in grades five through eight enjoy coming together for a focused time of spiritual enrichment. At Christmas and Easter, the Middle and Upper Schools join together for combined chapel services. On weeks when chapel does not meet, students gather with their Advisory group to discuss how the month's message applies in their daily lives. Advisory groups consist of a teacher who interacts with students from a grade that they are not currently teaching.
Upper School Chapel
A student-led worship band leads chapel services, playing a mixture of new and familiar songs. Throughout the year guest speakers, alumni, and students speak in chapel to share messages of encouragement and inspiration. Organized and led by Reverend John Hugh Tate, chapel services are held in the Performing Arts Center on select Tuesdays. Upper School students are required to attend four chapel services per year, with additional chapel attendance being voluntary.
"Don't prepare the path for your child. Prepare your child for the path."

Dr. John Hugh Tate, JA Parent, JA School Chaplain

Meet the School Chaplain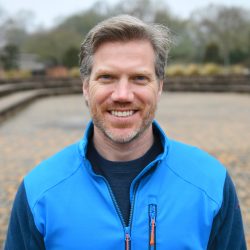 Dr. John Hugh Tate
Dr. Tate has served as the school chaplain for eight years. Originally from New Albany, Miss., he and his wife, Linda, have three sons, Jack, Logan, and Ethan, enrolled at JA. In addition to leading chapel services and Bible studies at JA, Tate currently teaches two Bible courses at the school and serves as the pastor of Bellwether Church. He graduated from Ole Miss, the University of Queensland, Australia, Harvard Divinity School, and recently completed his Doctorate at Fuller Seminary.  In his free time, he can be found watching baseball, reading, running, swimming, and going deer hunting.