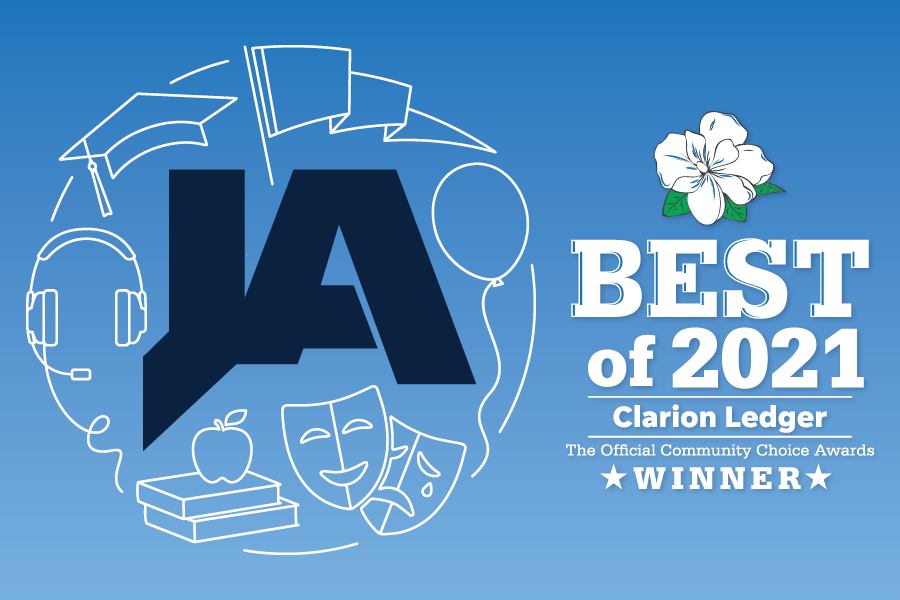 Jackson Academy was named Best Private School 2021 and Best in five additional categories in the Clarion-Ledger's annual poll to discover Mississippians' most admired businesses, organizations, people, and events. Voters named Mallory Gnemi Best Teacher; the JA Carnival the Best Festival; JA's Performing Arts Center the Best Live Performance Venue; the JA Carnival the Best Festival/Event; Bryan Eubank the Best TV/Radio Personality; and Jackson Academy the Best Place to Work! Read on to learn more about what each honor means to the JA family.
Best Private School, Jackson Academy
"I believe JA has been recognized in such an incredible way in large part due to our mission and school culture," said Head of School Palmer Kennedy. "All facets of a JA experience – academics, athletics, the arts, or a variety of other co-curricular programs – are student-centered and mission-driven. Our mission and culture are advanced by a superior and committed faculty and staff, parents, Board of Trustees, and of course, students. We deeply appreciate this recognition of our efforts. We also understand that 'to whom much has been given, much is expected.' Go Raiders!"
Best Teacher, Mallory Gnemi
​​"The entire middle school faculty and staff are proud, but not at all surprised, that Mallory Gnemi was voted the Best Teacher in the Clarion Ledger's Best Of 2021," said Matt Morgan, associate head of school and academic dean. "Mallory possesses a rare combination of an imaginative spirit and an unyielding drive to maximize student achievement. In short, she can quantify engagement and creativity in her classroom for each student. We are thankful for Mallory's gifts and all the ways that she inspires and equips her students at Jackson Academy."
Best TV/Radio Personality, Bryan Eubank
"With over 20 years and 2,000 games called, Bryan Eubank's voice is the iconic voice that Raider fans have come to expect," said Technology Director Eddie Wettach. "With his professionalism and endless hours of preparation to bring each Raider fan the best possible production, it is no surprise that he is considered one of the Best Of Mississippi in 2021."
Best Festival/Event, the JA Carnival
"The JA Carnival is a unique event that captures the family essence that is such a strong part of the JA culture," Angie Haraway, JAA Chair 2021-2022, said. "The long history of the Carnival speaks to its success and ability to evolve over the years. I have such fun memories of attending the JA Carnival as a child, and now my children will, too. Their Carnival experience is very different from mine. Now we have carnival rides, an amazing costume contest, multiple food options from vendors in the community, and we even had a slime lab this year. The Carnival wouldn't be nearly what it is without our creative, hard-working volunteers and generous sponsors! It is certainly a tremendous honor for the JA Carnival to be voted Best Festival/Event 2021!"
Best Live Performance Venue, the Performing Arts Center
"Beyond its state of the art architectural and performance design, what sets the JA Performing Arts Center apart is the teams that operate and perform in it," said Stacy Bates, Performing Arts Center Coordinator. "While the PAC welcomes many outside events through community organizations, it shines the brightest when its award-winning show choirs, theatre, bands, and other arts take the spotlight." Director of Theatre Arts Kerri Sanders shared similar thoughts, saying: "As performing arts faculty and staff, we strive to give our students an experience that mirrors that of a professional company. We hold our performers and technicians to a very high standard, from the way we run our rehearsals to the visual spectacle of our sets and costumes to our stellar orchestrations. The base for these operations and the catalyst for this standard is our incredible facility. In the PAC, students can work on one of the most impressive stages in the state and be exposed to the newest and best equipment thanks to the support of our parents, community, and administrators."
Best Place to Work, Jackson Academy
Who better to ask what makes JA the Best Place to Work than three of JA's dedicated faculty? Susan Ingram and Tina Shaw are both in their fortieth year of service at JA. "JA really is like a family," Ingram said. "It's a special place that's difficult to put into words. You just have to be here and experience it for yourself!" For Shaw, the sense of purpose and community have kept her coming back to JA each year. "I love the students and parents so much," she said. "They are my family, and we all work together to make our students successful." Chris Tucker, who is teaching for his thirty-eighth school year at JA, said, "What makes JA such a great place is the culture of family and acceptance that we have built over the years. No one does that better than JA."
Jackson Academy's heartfelt thanks go out to our supporters in the JA family and our friends in the community for voting on behalf of this school!