Related News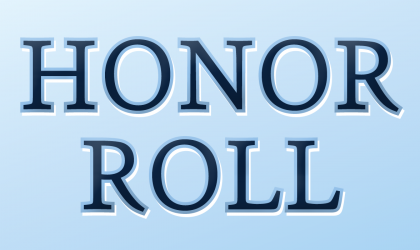 Middle School, Upper School, All News
ACADEMY HONOR ROLL Twelfth Grade Reese Anderson, Kelsey Burke, Steven Chustz, Ginny Dyess, Carter Elliott, Courtney Francois, Sydney Guy, Logan Hatten, John David Hendrick, Trey Herrington, William Janous, Miles Johnson, Case Kempthorne, Christian Luckett, P.J. Martin, Azaria McDowell, Chris Mondie, Sydney Morris, Virginia Parry, Nora Pickering, Anna Katherine Ray, Anna Roberson, Lily Grace Thigpen, Nelson Thomas, Don Waller, Reed White, Mary Gray White Eleventh Grade Drew Antici, Thomas Arnold, Paul Bautista, Gracie Coe, Emma Collums, McNeill Dinkins, Coleman Dinkins, Caroline Graven, Phoebe Guinn, Caroline Harrington, Sophie Hays, Avery Hendrick, Zharia Hill, Hallie Gray House, Ari Jackson, Zoe Ladner, Isabelle Lee, Miles Taylor Leverette, Hensley Moulder, Elizabeth Pedigo, Will Pilkington, Priya Ray, Anna Blake Reed, Elena Roberts, Emma Roberts, Lila Robertson, Anna Claire Seago, Emery Thigpen, Wes Thomas, Jack Varner, Maysa Vivians, Alice Williams Tenth Grade Abigail Addison, Abby Arnett, Drew Barrentine, Gibson Cheney, Caroline Courtney, Gunner Cress, KD Davis, Wilson Eatherly, Regan Felder, Connor Gee, Sandon Guild, Maggie Koury, Davis Lee, Libby Lohmeier, Parker Lowe, Anna Carlisle Nichols, Caroline Redman, Anne Barret Roberson, Reed Travelstead, Annalee Willson Ninth Grade Stella Allen, Thomas Antici, Molly Baldwin, Bailey Berry, Ishmam Bhuiyan, Avery Brooks, Sarah Clay, Elizabeth Copeland, Cooper Flechas, Mary Grace Foster, Jeffrey Gao, Grayce Geary, Houston Hearn, Emma Duncan Hogue, Collett Hudson, Blake Jones, Ava Ladner, Anna Lauren Parker, Eliza Perkins, Cole Powers, Gracie Drew Pratt, Ian Roberson, Dev Sharma, Kathleen Thigpen, Jameson Thompson, Camille Towery, Josh Watson, Parker Yarborough Eighth Grade Vivian Baker, Bo Barbour, Mallory Brooks, Virginia Browning, Mya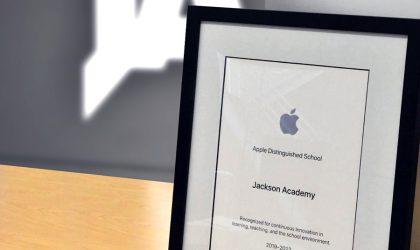 All News
"We believe Apple Distinguished Schools are some of the most innovative schools in the world," begins the Apple Distinguished School website. "They're centers of leadership and educational excellence that demonstrate our vision of exemplary learning environments." Apple has designated Jackson Academy as an Apple Distinguished School for the fourth time, first in 2013, then again in 2015, 2017, and 2019. JA is among a small number of schools in 34 countries to receive the honor.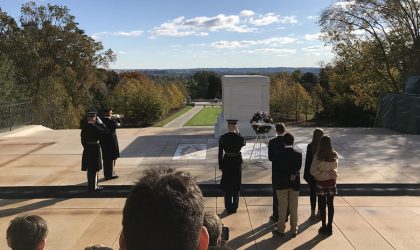 Middle School, All News
Four Jackson Academy students stood reverently beside a member of "The Old Guard" atop a hill overlooking a lush fall backdrop in Washington, D.C. The guard's job was to stand sentry and lead a ceremony at the Tomb of the Unknown Soldier in Arlington National Cemetery. The students' jobs were to present a wreath as a memorial to those who gave their lives to defend their country, and who remain unidentified.