Investing in Our Mission
Jackson Academy's New Master Plan
In the fall of 2018, Jackson Academy hosted parents, alums, students, faculty, and extended family for an evening "think tank" session to discuss and dream about what the next 50 years might hold for JA. The evening marked the first large-scale curriculum and facility needs discussion since the debut of a new master plan for the campus almost a decade prior.
As a result, the school began a feasibility study to prioritize and further explore the recommendations made during the evening session. In early 2020, JA hired the J. F. Smith Group to research and interview a diverse cross-section of the JA community to gain insight as to what focus the school needed to concentrate on for the next decade and beyond.
Once completed, the study pointed toward three distinct goals identified by all of those interviewed:
Look critically at campus square footage and determine if all areas were utilized to their fullest and if JA should reassign some areas' current uses to different and future needs.
With the need for increased collaboration and a more hands-on classroom model, further enhance the science curriculum with new lab experiences for all ages from kindergarten through twelfth grade.
As an offshoot of the first objective of reworking square footage, explore a new multi-purpose facility for the increased flexibility of our current curriculum and extracurricular activities, including expanding After School programs for all ages.
To help guide and implement this process, JA hired Dean Architecture to help assess current conditions and bring the future vision to fruition.
With the culmination of this study and ongoing campus assessments underway, JA launched the current campaign, "Investing in Our Mission," in the fall of 2021. JA identified campaign leadership throughout all divisions and divided the campaign into four separate building and renovation phases. Fundraising for the campaign began with hopes of completing all four phases during a 5-7 year period without incurring increased debt.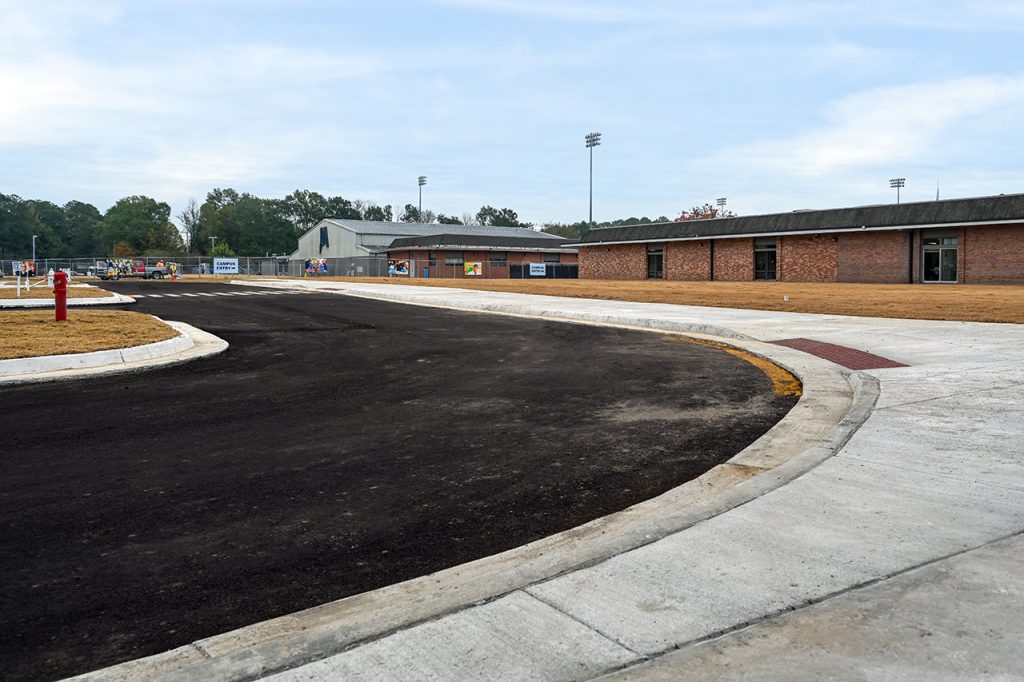 Phase One was an infrastructure phase that reworked current on-campus parking, traffic, and carpool patterns and redistributed all underground utilities. The early utility work made it possible for that area not to be disturbed again as future phases progressed. This first phase began with the start of school in August 2022 and was completed in November by contractor Brassfield and Gorrie.
Successful fundraising has allowed JA to begin Phase Two immediately following Phase One. Original plans had called for a new Upper School Science Center as Phase Two and a Middle School addition as Phase Three. Each of these phases allowed the movement of current classes into new square footage and the redesign of original classrooms for lower grades and special subjects through kindergarten.
After considering the current funds raised, the designs that had been objectively laid out, and JA's enrollment growth in lower grades leading into Middle School, the school decided to expand the Middle School first. JA also considered the timing of the next phase due to rising construction costs in the world climate.
JA is now adding more classrooms to incorporate the sixth grade and prioritizing this addition as Phase Two, thereby making the Upper School science addition Phase Three. After Phase One concludes, MidState Construction will begin Phase Two, with completion set for the fall of 2023, coinciding with the start of school.
Fundraising for Phase Three will begin this fall. It will continue until JA secures funds for the Upper School Science Center addition. This phase also includes reworking those vacated areas and reallocating to other grades. This third phase will provide a centrally located campus plaza with permanent space for Raider Network, JA's signature SOAR program, and the JA Campus Store.
Phase Four will include the construction of a new competition gym with a concession area that will double as a satellite cafeteria. Further enhancements in this phase will be reworking current athletic facilities into more multi-purpose spaces for current and future programming.
To learn more about the campaign and how to partner with those families who have already pledged to ensure the future success of Jackson Academy, please get in touch with Jim Wilkirson in the Office of Advancement (jwilkirson@jacksonacademy.org).
Thank you in advance for "Investing in Our Mission."
Ways to Give
To Give
Do This
Cash
Give by check or other means of giving cash
Securities
Please contact Jim Wilkirson at (601) 364-5754 or by email, jwilkirson@jacksonacademy.org 
Personal Property
Given for a Related Use
Deed or deliver property to the recipient
Life Insurance
Assign a charitable beneficiary (or owner and beneficiary) of an existing or new policy.
Bequest
Include Jackson Academy in your will for a specific amount, a percentage of your estate, or a remainder gift after bequests to individuals have been paid.
Jackson Academy is a 501C(3)organization. Your contribution is deductible to the fullest extent of the law. Please consult your tax advisor regarding your individual tax situation.