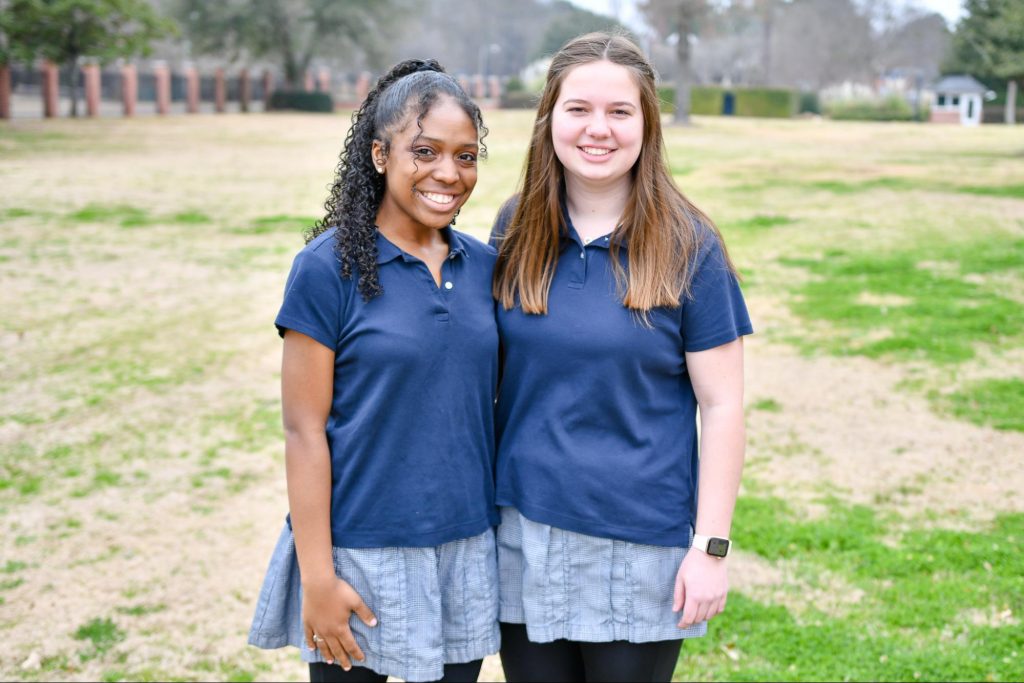 In partnership with Belhaven University, Mississippi Christian Living magazine selected Jackson Academy seniors Meagan Gautier and Madison Lampley as "Christian Leaders of the Future." The annual program recognizes 24 students from throughout the state of Mississippi whose lives exemplify a passion for Christian faith and service. In their Mississippi Christian Living magazine applications, Meagan and Madison shared how experiences on the mission field and leading worship with fellow believers shaped their relationships with God.
Meagan's unique faith journey always included church involvement. She volunteers with the music department at First Baptist Church of Jackson, leading worship for the church's youth group, playing guitar during church services, and previously helped lead chapel at JA. The faith that she lives out every day in her community was confirmed nearly five years ago on a mission trip. The summer before her freshmen year of high school, Meagan traveled to Haiti with a team and experienced God's presence even as she encountered deep brokenness. That experience strengthened her awareness of her need for a personal, daily connection to God. Meagan's favorite Bible passage reflects her desire for everyday nearness to God through the story of the prodigal son, told in Luke 15. "This passage has always stuck with me," Meagan said, "because I know that my heavenly father runs and meets me where I am, over-and-over again."
Madison Lampley grew up surrounded by the love of God through her church and family. Her grandfather, "Papa C," was one of the people who most inspired her, illustrating a love for music and other people that left an eternal impact on Madison's life. She volunteers with the youth praise and worship team at her church, in the nursery, and as a small group leader for middle school students. As she has grown, so has the depth of her faith and awareness of God's presence in daily life. A season of depression and loneliness prepared Madison to deepen her connection to God during a mission trip to Mexico. While mission trips are logistically challenging, sharing openly about the most crucial relationship in one's life with total strangers who may not speak the same language can be daunting. Anxious at this prospect, Madison leaned on her spiritual mentors, stepped out in faith, and saw God meet her needs. This experience reflected Madison's favorite Bible passage, Romans 8:28: "And we know that in all things God works for the good of those who love Him, who have been called according to his purpose." 
Christian Leaders of the Future is a title given to students who intend to build the kingdom of heaven wherever they go, regardless of the careers they pursue. When Madison and Meagan enter their freshman year of college next fall, each will do so with the intent of pursuing professions that allow them to use their gifts to heal the world – one person at a time. Congratulations to Madison and Meagan on being selected for this honor!