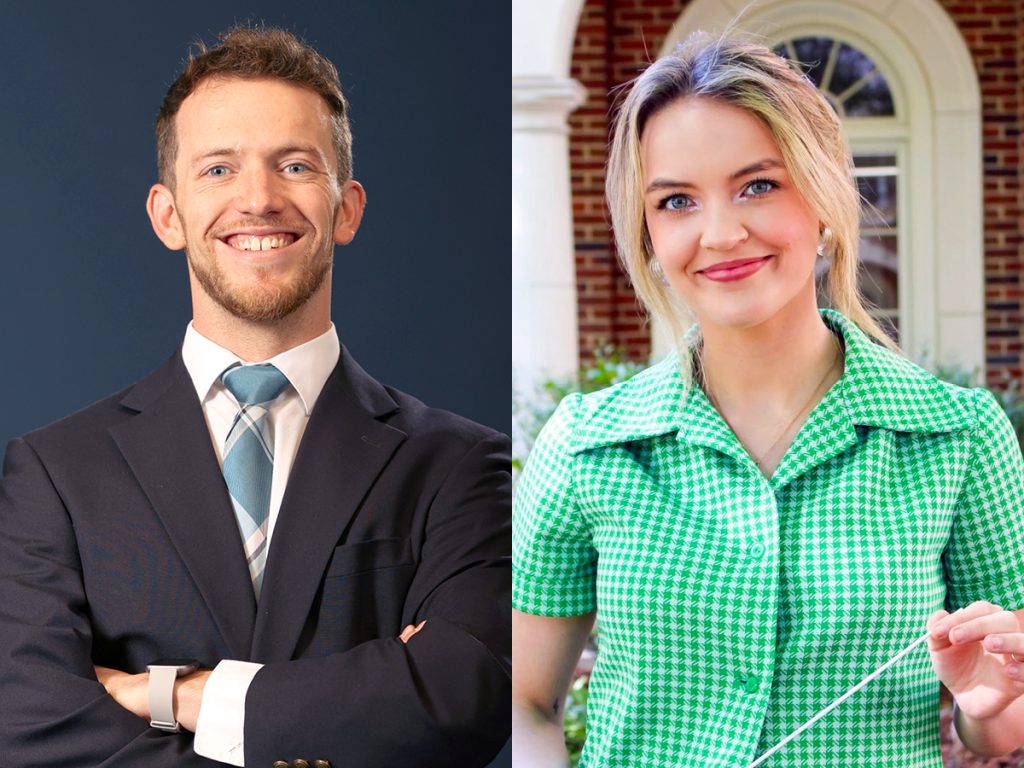 Jackson Academy's new Director of Choral Music, Garrett Lindsey, began preparations this summer for the showchoir and choral music seasons and the academic instruction accompanying them. In his role, he oversees Upper School choral music programs and the Upper School showchoir, Encore. Lindsey will direct the Middle School showchoir, Showtime, until the arrival of incoming Middle School Choral Director Emily Greene in January. 
Lindsey spent the last eight years at Jasper High School and Junior High School in Jasper, Alabama. During his tenure, he took the showchoir program into the competitive world of showchoir. He also established the Jasper Foothills Show Choir Classic, JHS's regional showchoir competition.
Additionally, Lindsey advanced the school concert choir program, receiving numerous superior ratings during state assessment and having students selected for all-state choir and all-state show choir. Part of this success was due to Lindsey's work with sixth through eighth grades, giving growth to the overall choral program.
In 2019, he was named the JHS Teacher of the Year for changing the culture and expectations of what a choral music program can be and for building the most diverse group of students on campus. His main daily goal is for his students to achieve more today than they thought possible yesterday. He holds the "hard work pays off" philosophy and always expects students to do their best simply because they can. At JA, he has observed a culture of mutual respect and a desire for everyone to succeed and be their best.
"I am thoroughly excited about coming to a place that values and expects excellence from every person, organization, and activity on campus," he said. "A colleague of mine once said, 'High expectations are a form of respect. People who do not expect respect from you do not respect you.' This has stuck with me. Here at JA, I feel a culture of not just mutual respect but a desire for everyone to succeed, be their best, and make the best of it along the way. The support for the arts is second to none."
In January, Emily Greene will begin her role as Middle School choral director. Greene has served as a choreographer for middle school, high school, and college showchoirs, including the University of Alabama, Albertville Middle School, Jasper High School, Tuscaloosa County High School, and Donelson Christian Academy. Greene served in 2022 as an instructor of fifth and sixth-grade participants in Summer Show-Offs. 
She will complete a Bachelor of Science in vocal music education in December from the University of Alabama. While there, she performed with the university's showchoir, Resonance, and served as the group's president in the 2019-20 school year. During her ninth through twelfth grade years at Jasper High school, Greene was taught by Garrett Lindsey while a member of the Jasper Encore Showchoir. She served as the group's president.
At JA, she will teach fifth-grade music and work with the fall musical in addition to directing Showtime. "We are very excited to add Emily to our team," said Associate Head of School for Student Life Jimmy Messer. "During the interview, we were impressed with her knowledge and energy. Our students will love her enthusiasm for showchoir and working with young people." 
"Emily Greene will make a wonderful addition not only to the choral department but to the JA family," said Lindsey. "Her energy, excitement, and passion, combined with her skill and expertise in music, make her stand out. I am very excited about the chance to work alongside her!"