Middle and Upper School Libraries
Jackson Academy continues to be on the cutting edge in providing valuable library research resources.
We prepare students to access technology resources at the university level and beyond, and to read as a lifelong learning skill.
Middle and Upper School Resources
In the Information Age
It is the mission of the Jackson Academy library to give each teacher and student personalized, knowledgeable, and timely service that enriches their unique learning experience. Full-text, multifaceted online databases and an online catalog for books are available for students and faculty. All of these resources may be accessed on or off campus.
Working together to support our teachers, our Library Media Specialist helps fulfill our schoolwide goal for every student to be information literate.
Through Digital Citizenship classes, students learn to make responsible choices about the digital media they consume or create. The classes help students understand the balance between the benefits and hazards related to digital media. Students develop awareness of the power of words and images on others and the lasting impact of what they share.
Helping students learn how to avoid plagiarism ties into the principles of the JA Honor Code, guiding students to be ethical researchers as they learn to paraphrase and cite their work correctly. Avoiding plagiarism is an important practice in academic and professional writing. We work with students in fifth through twelfth grades to teach ways to avoid plagiarism.
A library of soft and hard-cover books is available in the Learning Commons. We prioritize assisting students as they find materials that help them achieve success in the classroom or develop a love of reading, whether that is in print or on an iPad, or whether for pleasure or for academic pursuits.
"My heart in teaching is to help students to think for themselves, whether it is to evaluate an online source, pause before posting something online, or simply choose a book for academic or pleasure reading."

Bronwyn Burford, Upper and Middle School Librarian
Meet the Librarian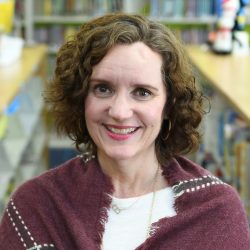 Bronwyn Burford, Middle and Upper School Librarian
Bronwyn Burford earned a Bachelor's in Public Accountancy from Mississippi State University and a Master's in Business Administration from Mississippi College. She has taught at JA for 16 years, leading classes in fifth grade digital citizenship, Upper School digital citizenship, and personal financial management. She manages the Middle and Upper School libraries, teaching students to conduct research ethically whether online or off. Her passion to equip students with the tools they need to create excellent academic work impacts every student who sits under her teaching. She can be reached at 601.364.5757 or bburford@jacksonacademy.org.