Summer Camps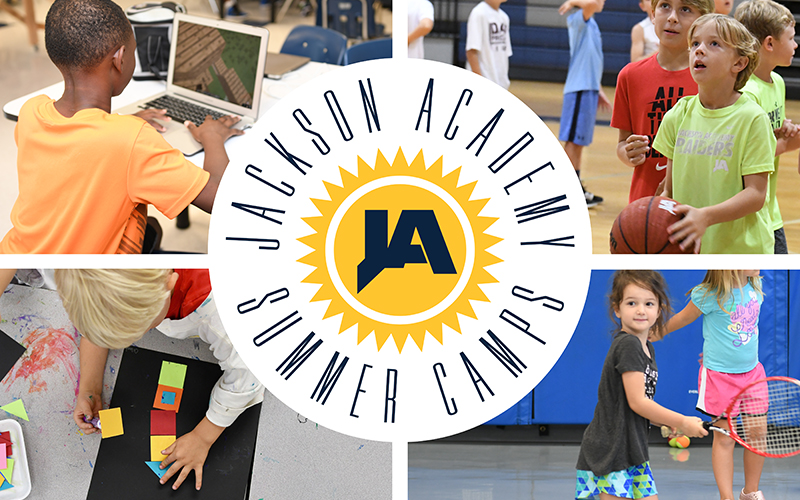 Learning has never been so much fun!
The camps at Jackson Academy have something for everyone, from rising sports or stage stars to future artists and scientists. We have several new camps to delight and thrill you. Summer is a great time to get on track academically with our workshops. Please check the camp catalog and see the new camps, along with everyone's favorites.
Sign Up
To sign up, DOWNLOAD THE SUMMER CAMPS BROCHURE HERE and fill out the information on pages eight and nine in the brochure.
For assistance, contact Lynn Green at lgreen@jacksonacademy.org.
A Few Reminders
Many camps have limited availability, so sign up quickly.
Space in the camps cannot be held without payment and registration forms.
Please read all policies and sign the registration form.
Email Lynn Green, lgreen@jacksonacademy.org, with questions and concerns. We are always happy to hear from you.
Summer Care Policy
Summer Care is Jackson Academy's After School Program designed for Jackson Academy students who:
Are enrolled at JA for the 2019-20 school term.
Need extended care before and after a camp.
Are not enrolled in our regular Summer Program.
Summer Care will be $40.00 per day.
Registration is through the After School office only.
Contact Hope Burford at hburford@jacksonacademy.org or 601-368-7398.
Parents Attendance
Parents are welcome to attend the last session of each camp to meet your child's instructor/coach and to see performances, competitions, and/or projects. Please contact your child's instructor/coach for times.