2021-22 COVID-19 Policies and Protocols
Noted below are the Jackson Academy COVID-19 policies and protocols that are in place for the 2021-22 school year and are effective immediately. As circumstances change with the pandemic, these policies and procedures can change. Please continue to refer to this website area for the most updated information.
Use the menu below to view information by Division
Vaccination
JA encourages vaccination for all eligible faculty and staff.
JA employee vaccination status is required to be reported to JA School Nurse Kathy Sheffield immediately or as vaccination status changes.
JA encourages all eligible students to be vaccinated but ultimately respects the decisions of parents and health care providers around the vaccination of individual students 12 years of age and older.
Students' vaccination status is only required on a need-to-know basis (avoiding quarantine for close contact) and should be reported to Kathy Sheffield.
Mask Use
JA encourages all faculty and staff to wear a mask while they are in indoor, school settings. (Updated 10/12)
JA encourages all students K3 through 12 to wear a mask while they are in indoor, school settings. (Updated 9/20)
Distancing and Other Measures
JA will make every reasonable effort to maintain 3 feet of distance between students in classrooms.
At this time, school transportation on buses continues to be based on coaching staff and faculty/staff recommendations. Masks are required at all times during bus travel. For the safety of all, meals and snacks will be consumed prior to or after travel. (Updated 9/24)
Campus water fountains will be used as water bottle fillers only.
Screening Testing
JA will not require routine screening of asymptomatic, unvaccinated students, teachers, and staff; we do, however, continue to ask that students, staff, and faculty not come to school when they exhibit signs of any infectious illness.
Symptom Checker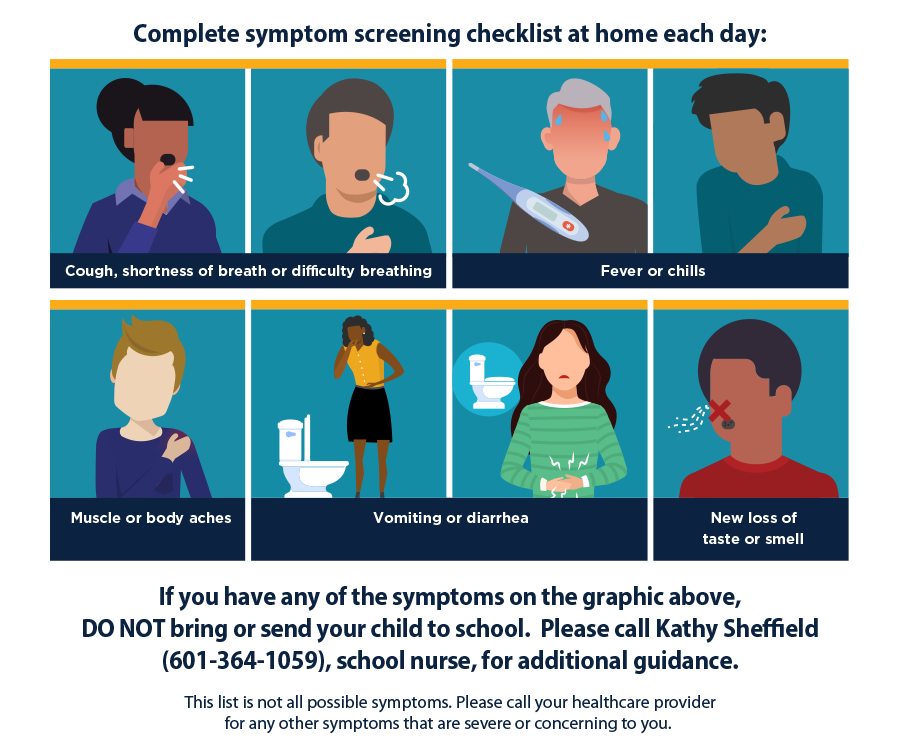 Positive Cases
JA students, staff, and teachers who test positive are required to notify the school nurse through the school hotline number: 601-364-1059. Those persons with a positive COVID test will be required to isolate for 10 days from the onset of symptoms or the date of the positive test prior to returning to school. A negative test is not required for return to school.
Close Contact
JA offers a 10-day isolation or a negative test on day 5 to return to school after a close contact.
JA will not require quarantine of fully vaccinated students (will need to produce proof of vaccination to Kathy Sheffield) or staff.
JA will not require quarantine of students or staff who have tested positive for COVID-19 (will need to produce proof of positive test to Kathy Sheffield) in the last 90 days and are symptom-free.
JA will not require quarantine for the close contact if the individual is masked for the entirety of the exposure in an indoor setting.