The spring and summer of 2020 have been an unprecedented season of life for most adults and certainly for our children. At Jackson Academy, we are extremely grateful for the efforts of our parents, faculty, and students who are weathering this challenge with diligence, flexibility, and grace for one another.
While we are pleased that JA was positioned to pivot quickly to distance learning, we acknowledge that fulfilling JA's mission in an extended distance learning model is a challenge for all involved. It is not the ideal JA learning experience for students. JA's leadership has sought to reopen school with in-person learning as a priority. Our goal for this fall was to open school with on-campus, in-person learning while prioritizing the health and well-being of our students, staff, and families, following state and local guidelines.
Use the menu below to view
information by Division
Teaching and Learning
JA's primary mode of instruction will be on-campus, in-person learning.
For those Middle and Upper School students who are not comfortable or ready to attend on-campus classes due to individual circumstances relating to the pandemic, JA will offer a distance-learning option based on individual and curriculum needs. For those Lower School students, their options for distance learning will be handled on a case by case scenario as daily distance learning may not be available for all grades 1-4 and may have to be supplemented with online programs and parental resources for at-home learning.
Distance Learning Option
Jackson Academy is offering a distance-learning option for students in grades 3-12 who may not be comfortable with in-person learning to begin the school year. While specific details will differ by grade level and school division, please be aware of the following common requirements of the distance learning program.
Students and families will commit to distance learning for a minimum period of nine weeks.
Students will commit to returning to campus to take tests and complete other major assignments.
Students will not have access to extracurricular activities while in distance learning.
For additional information, please contact your respective division office: Lower School – 601-362-2471, Middle School – 601-364-5404, Upper School – 601-366-2380.
Health, Hygiene, and Sanitation
JA will ask that families assist the school with the daily symptom screening of your child and take the necessary precautions if your child has any current symptoms. Once on campus, JA will perform daily temperature checks of all students and staff.
JA will provide education of students and staff on personal hygiene best practices (handwashing, avoiding contact with one's face, etc.).
Sanitation of the campus will occur nightly, with regularly scheduled sanitation of high touch areas of the school during the day.
Increased circulation of airflow will occur by opening doors and windows when possible.
JA will eliminate the use of shared materials whenever possible.
Adult faculty and administration considered at risk will be offered PPE and steps will be taken to provide protection for them in the classroom and office settings.
JA will follow local and state guidelines on face coverings for students, with particular attention to the age of the student.
Symptom Checker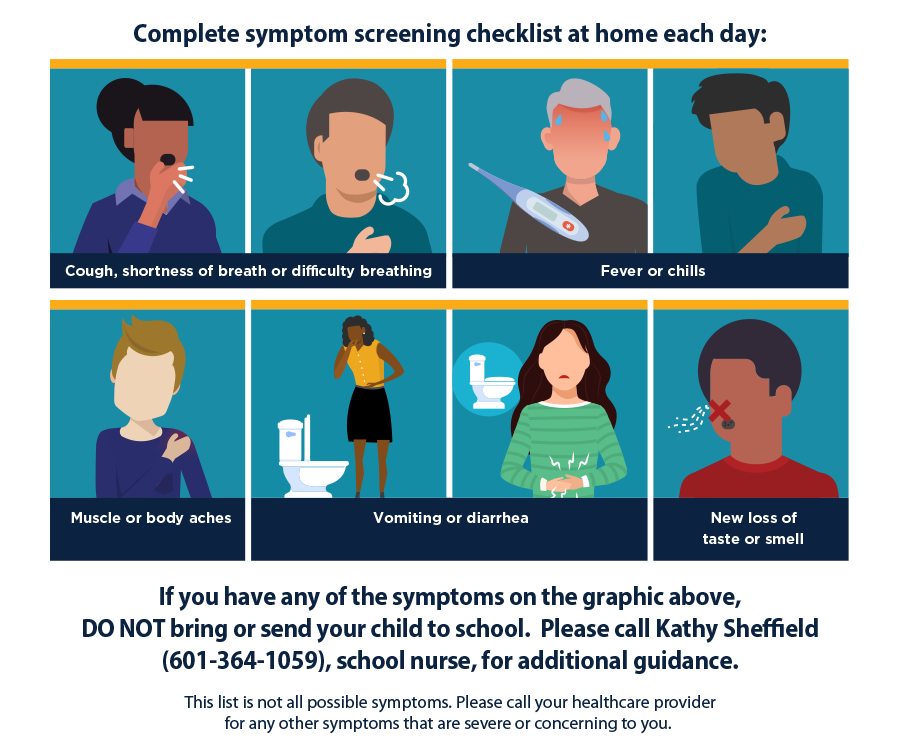 Quarantine Guidelines
Circumstance
# of days quarantined
Other actions taken
Positive COVID test of student†
10 days (last 24 hours fever free)
Parents of classmates notified of positive case
Positive COVID test of faculty or staff†
10 days (last 24 hours fever free and no other symptoms)
Notification of positive case to affected areas
Positive COVID test of household member with close contact*
14 days from last close contact*
No further actions taken
Positive COVID test of household member with close contact* for JA employees†
Please contact Kathy Sheffield, school nurse, for guidance for essential employees†
No further actions taken
Positive COVID test of household member without close contact*
No quarantine required
No further actions taken
Close contact* with someone with positive COVID test
14 days from last close contact*
or
5 days from the last close contact*, symptom free, and a negative COVID-19 test (active virus) on the 5th day
No further actions taken
*The CDC defines close contact as any of the following:
You were within 6 feet of someone who has COVID-19 for a total of 15 minutes or more
You provided care at home to someone who is sick with COVID-19
You had direct physical contact with the person (hugged or kissed them)
You shared eating or drinking utensils
They sneezed, coughed, or somehow got respiratory droplets on you
†Students, faculty, and staff who have tested positive for COVID-19 do not need to quarantine or get tested again for up to 3 months, as long as they do not develop symptoms again. The school must have dated evidence of the previous positive test.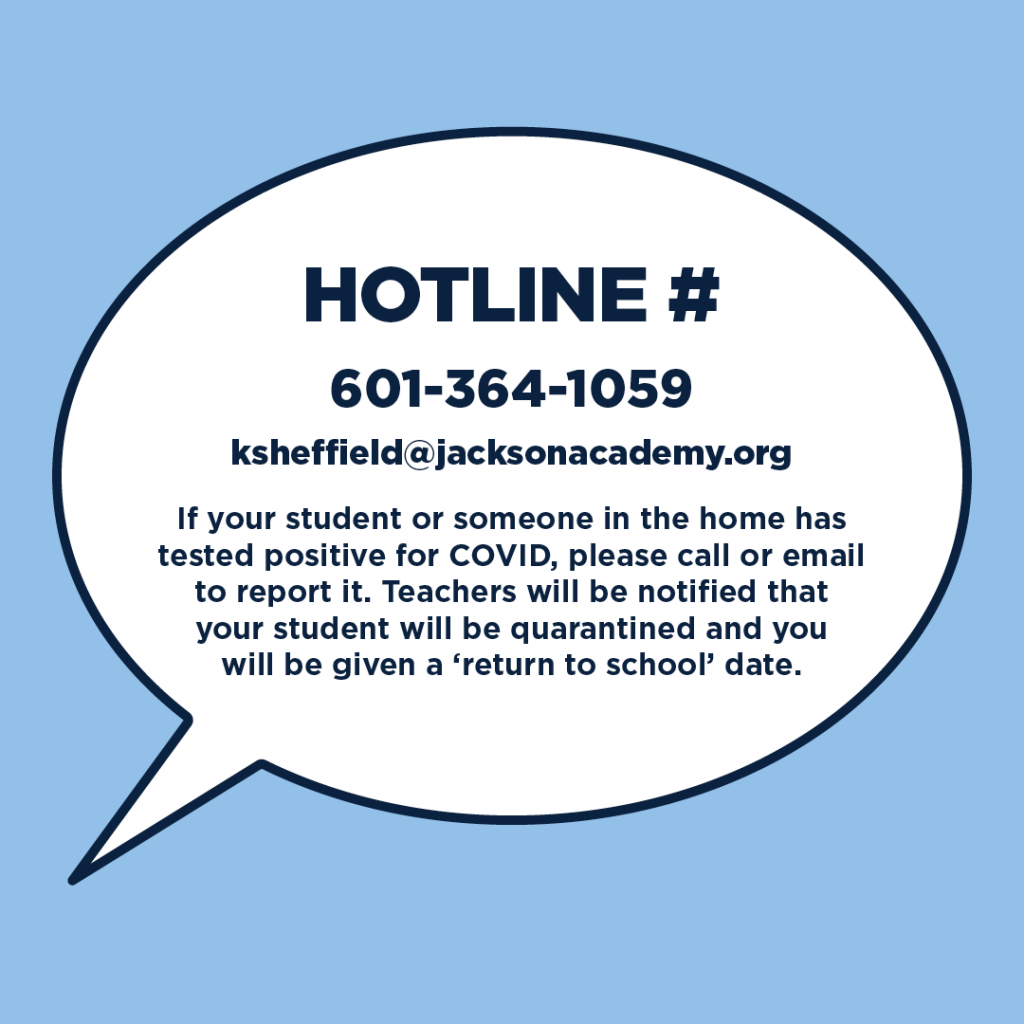 Student Life
All students and faculty will be asked to maintain physical distancing standards throughout the school day and while on campus. For times and areas where physical distancing is not possible, daily schedules and the number of people within an area will be adjusted to be in accordance with current local and state health and safety guidelines.
To further heighten these guidelines, JA Preschool and Lower School students will remain in cohorts throughout the day with limited interaction between groups.
JA Middle School and Upper School students will be routed through buildings and around campus to minimize student contact during passing and times of transition. Students will be required to stay within their respective grade divisions and will not be allowed to integrate into divisions other than their own unless advance notice is given.
Students will be asked to access only buildings and outdoor areas associated with their division.
Large campus gatherings will be governed by current local and state health and safety guidelines.
JA athletic, music, and arts programming will follow the same guidelines with extra precautions being taken depending on the number of those involved and the type of activity. All extracurricular activities will have guidelines that will be followed and communicated by the staff and department of the activity.
JA Cafeteria dining options will be addressed by age division levels. Preschool levels will have dining within the classroom and their building surroundings while Lower School through Upper School will enjoy a more physically distanced cafeteria atmosphere mixed with more on-campus eating area options.
JA Face-covering Policy
In order to maintain a safe and healthy learning environment for all students and faculty, all adults and grade level students on campus will be required to wear a face covering when dictated by this policy and to comply with current city and state mandates issued by government officials. This policy will remain in effect until further notice and may be altered to address additional needs at any time.
Grade-Level Guidelines
For students in K3-K5, there are no face-covering requirements at this time. Parents and guardians of K3-K5 students should monitor their children for symptoms and take necessary precautions should symptoms occur.
For grades 1-4, students will be required to bring a face covering to school each day.
Face coverings must be worn from the car to homeroom each morning.
After temperature screenings, face coverings may be removed in the classroom as directed by the teacher.
Students may be required to wear face coverings during transition times and in special subjects as directed by faculty when indoors and social distancing is not possible.
For grades 5-12, students will be required to bring a face covering to school each day.
Face coverings must be worn while entering the buildings each morning.
After temperature screenings, face coverings may be removed in classrooms where social distancing is possible and as directed by the teacher.
Students will be required to wear face coverings during transition times, special subjects, and indoors when social distancing is not possible.
Please note that anyone may choose to voluntarily wear a face covering for the entirety of the day. For extracurricular activities and after school face-covering guidelines, please refer to each division area for the specific requirements for that activity or sport.
Visitors
Visitors to campus will be required to wear a face covering at all times and to check in at the main desk in the administration building before proceeding to another campus location. Campus visitors attending extracurricular activities and sports must comply with the guidelines set for that particular event.
Approved Coverings and School-Provided Supplies
Both face masks and neck gaiters will be allowed as an approved protective face covering. During school, instructional times and when face coverings must be worn, student and faculty masks must comply with our school uniform policy. Face coverings must be of a solid color and have no decoration, pattern, or adornment. A school logo visible on one side of the face covering is acceptable. Approved colors are solid white, black, gray or any blue found in our current school uniform. As all of these will look similar, we ask that you add a permanent marking on the inside of the student's face covering so that they may identify it as theirs.
As a part of each grade's consolidated fee, the school will provide two washable cloth masks to students grades 1-12 and faculty to begin the school year. These masks are two-ply and are made to receive a filter if desired. They are navy with a small JA logo on one side, and additional masks of this type will be available through the campus store and through our uniform provider, Lands' End. Additionally, for sanitation and germ protection in handling face coverings, each student grades 1-12 will receive an individual refillable hand sanitizer pouch for their backpack compliments of Shelter Insurance/The Meeks Agency, a JA School Partner.
Contingency Plans
If necessary and to adhere to local and state health and safety guidelines, JA has alternate plans in place at all levels in the event the campus population must be reduced.
JA's Preschool and kindergarten students, K3-K5, will remain on campus in a learning environment during ANY reduction of campus. During this time, this program will change to operational daycare guidelines thereby remaining open for the duration of any reduction.
JA Lower School students in grades 1-4 will stay on campus as long as reasonably possible under any reduction plan for in-person learning and until a time where state and federal guidelines force a move to a distance learning model.
JA Middle School (grades 5-8) and Upper School (grades 9-12) students will move to a combination of in-person and distance learning under any reduction plan until a time where state and federal guidelines force a move to a distance learning model.
We hope that this announcement of our plans for returning to on-campus learning has been helpful and addresses some of your questions and concerns. We know that there will be change, and we commit to you that we will be there for you and your family every step of the way. We wouldn't have it any other way – that's the JA way!
GO RAIDERS!!